Facilities
OHVs
Terrain
Signage
Emergencies
Facilities
Closest lodging, restaurants, gas is in Boulder, UT. More amenities can be found in Escalante, Torrey, or Ticaboo. The trail is very remote with no services. You can camp in BLM portions of the trail.
OHVs
Terrain
Signage
Emergencies
Do you ever feel that desire to go ride somewhere way out in the sticks? The kind of place you are unlikely to encounter another human? To go enjoy the West like it might have felt to a lone rider on horseback traversing a great wild land?
A place like that exists, East of Boulder Utah, South of Capitol Reef NP, and North West of Lake Powell.
The Wolverine Moody Loop is a beginner level loop trail with an optional out and back section along the Moody Creek Road. The whole trip is 77 miles long and will be an all day event lasting between five to six hours.
The trailhead is located about 19 miles east of the town of Boulder (37.92, -111.22). Staging and camping can be done on wide pull outs once you exit the paved Burr Trail road. Even large rigs that venture out this way will find a place to park or camp that wont give you too much trouble. The trail features scrubby red desert and beautiful red rock ledges and canyons.
Most of the terrain is a well maintained dirt road, but there may be sandy washes to traverse at certain points. This is a very remote area that you can get to easily thanks to the quality of the roads.
One of the unique aspects of this trail is the amount of petrified wood and petrified forests that exist along the loop. You can read about one of the many locations here:
learn more
.
The closest town is Boulder, which has some lodging and restaurants, but for more amenities and supplies you can visit Escalante to the west, Torrey to the north (though Notom Road may rattle your teeth loose) or Ticaboo to the east.
Safety wise – this area of the state gets very hot, so make sure you bring more water than you need, and pay attention to the weather to avoid flash floods.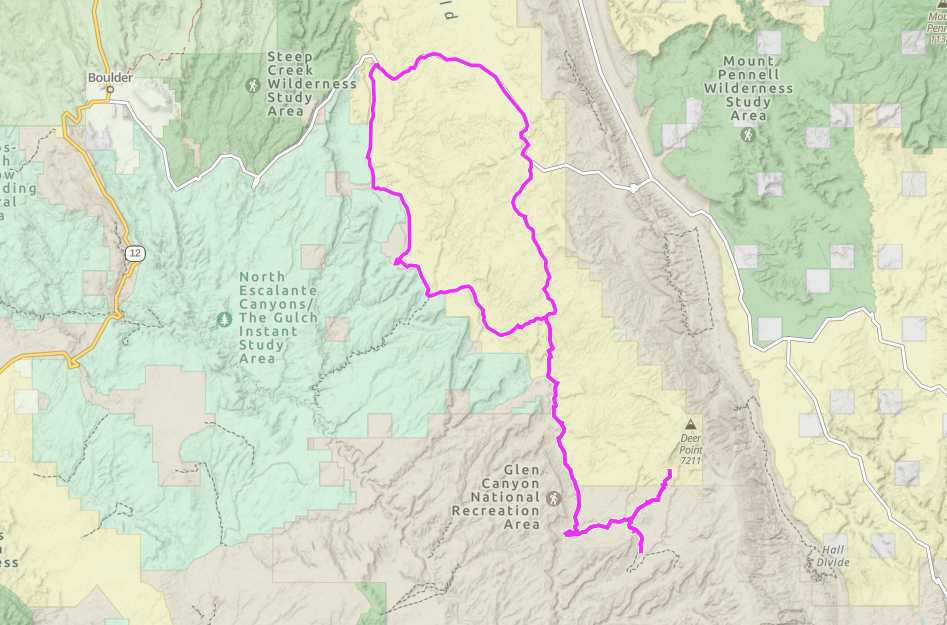 We recommend to download the GAIA App on your mobile device.
You can view and download the route from GAIA as well as see photos with their location geotagged on the trail.
Click "View 360 Map" to explore the trail in Google Street View and "See the Trail Before You Ride the Trail."
The GPX or KML files are available for you to download and use on your preferred app or device. 
Within our Key Points you will discover trail head parking, trail markers, points of interests, intersections as well as terrain and obstacles.
Click on the links below to reveal images and information