Salina To Richfield Trail
Facilities
OHVs
Terrain
Signage
Emergencies
Facilities
No Facilities on the trail. Fuel, food and lodging in Joseph or nearby Richfield, Utah
OHVs
Terrain
Signage
Emergencies
The connection between communities and trails is one of the unique aspects of riding in Utah. There are trails that will take you across the entire state but for those who are looking for a great ride that doesn't take multiple days, this route from Salina to Richfield may be for you.
This trail is a 90-mile loop that connects the community of Salina with Richfield that will take you into the Pavant Range west of town back into the valley along I-70 back to Salina. This trip can be completed in a day or combine it with some other attractions in the area and make a weekend out of it. Salina and Richfield both have lodging, restaurants and stores available for everything you need. The trail is close to town but takes off onto the mountain for a great escape without leaving civilization too far behind.
The Rocky Mountain ATV/UTV Jamboree bases out of Richfield if you are looking for more riding in the area or want to make some new friends on the trail. The annual event takes place in September.
More Info
.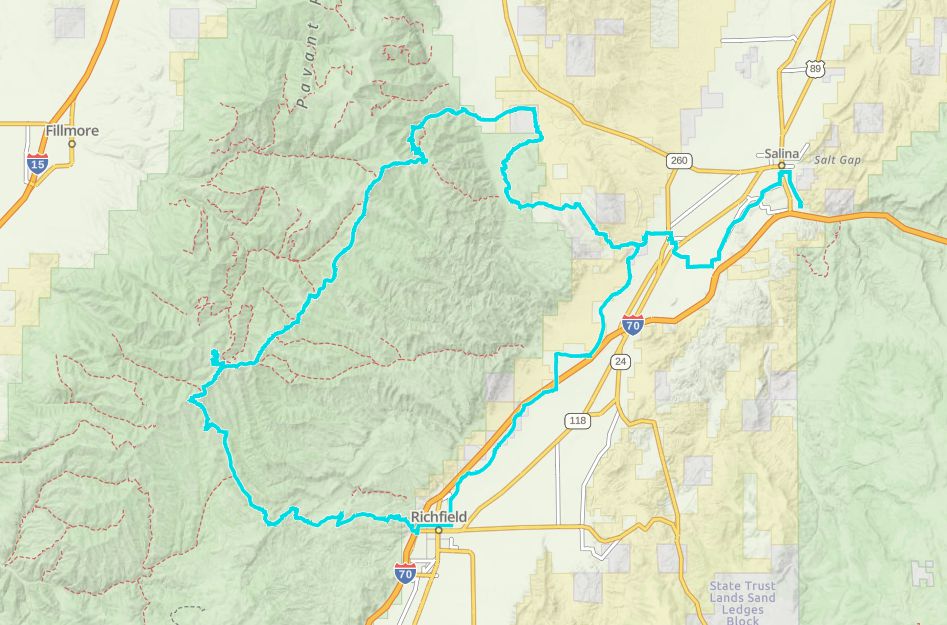 We recommend to download the GAIA App on your mobile device.
You can view and download the route from GAIA as well as see photos with their location geotagged on the trail.
Click "View 360 Map" to explore the trail in Google Street View and "See the Trail Before You Ride the Trail."
The GPX or KML files are available for you to download and use on your preferred app or device. 
Within our Key Points you will discover trail head parking, trail markers, points of interests, intersections as well as terrain and obstacles.
Click on the links below to reveal images and information