Facilities
OHVs
Terrain
Signage
Emergencies
Facilities
Lodging, restaurants, fuel and groceries are available in the town of Escalante. Facilities along the trail are sparse, but there are two campgrounds you can stop at.
OHVs
Terrain
Signage
Emergencies
The Jacobs Lake Loop is a beginner style trail located north of Escalante in Garfield County. The loop takes you 84 miles from the town of Escalante and back. It takes about six to seven hours of driving to complete.
The terrain is mostly comprised of maintained dirt roads, except for a brief stretch that takes you on the Boulder Swale OHV Trail (the OHV trail is limited to 50″ vehicles so don't plan on bringing a full size 4×4 on this portion of the loop).
This loop takes you by an astounding amount of mountain lakes and features some spectacular views of the forest and some iconic lookout points including Hell's Backbone.
Starting the trail from the town of Escalante is the easiest way to begin and stage your vehicles provided they are street legal.
You can also find just about every amenity you need in town including gas, lodging, and food. If you are looking for camping there is also plenty of campsites along the trail including the Posey Lake Campground and the Blue Spruce Campground.
Much of this trail rides through Dixie National Forest. Make sure you're familiar with the Forest's rules and regulations about recreation in the area. For more info visit:
usda.gov/dixie
.
There are many intersections in this loop so make sure to pay attention to trail signage and check your GPS so that you keep going the correct way.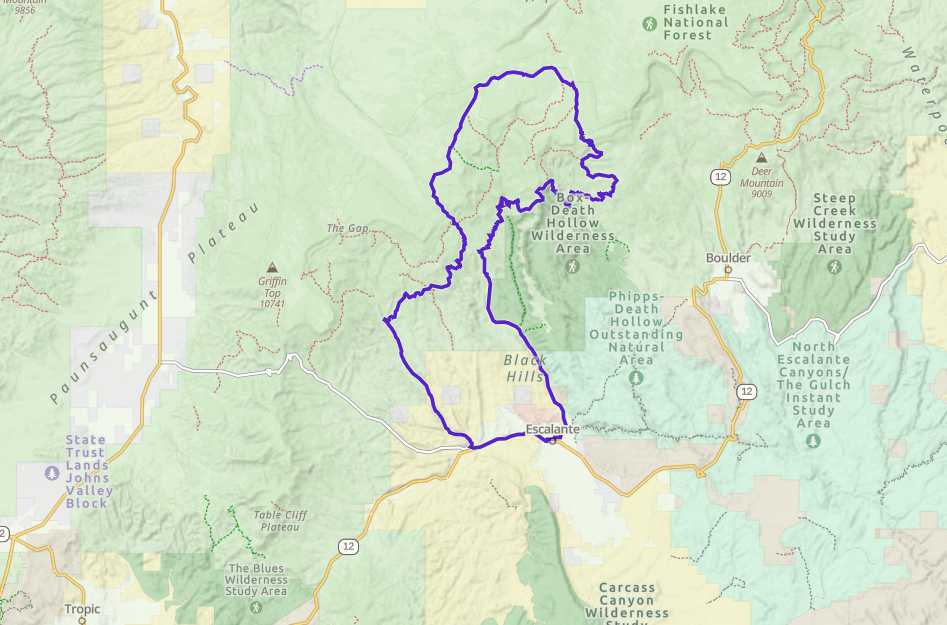 We recommend to download the GAIA App on your mobile device.
You can view and download the route from GAIA as well as see photos with their location geotagged on the trail.
Click "View 360 Map" to explore the trail in Google Street View and "See the Trail Before You Ride the Trail."
The GPX or KML files are available for you to download and use on your preferred app or device. 
Within our Key Points you will discover trail head parking, trail markers, points of interests, intersections as well as terrain and obstacles.
Click on the links below to reveal images and information