Scofield – Tucker OHV Trail
Facilities
OHVs
Terrain
Signage
Emergencies
Facilities
Bathrooms and Campsites at Scofield State Park, Fuel in Scofield, we recommend stockingup on additional supplies in Spanish Fork, Mt. Pleasant or Price.
OHVs
Terrain
Signage
Emergencies
The Scofield – Tucker OHV Trail is a 38-mile loop in Central Utah that begins at the northwest end of Scofield State Park. Our ride took just over four hours at 7 mph. The trail is good for beginners in terms of terrain and short enough to bring the family along for the ride as there are some stops for fishing and short explorations for wildlife spotting. It is a easy half-day rideon a series of graded roads. Though the terrain is easy, there are quite a few areas of private property to avoid so please pay attention to signage.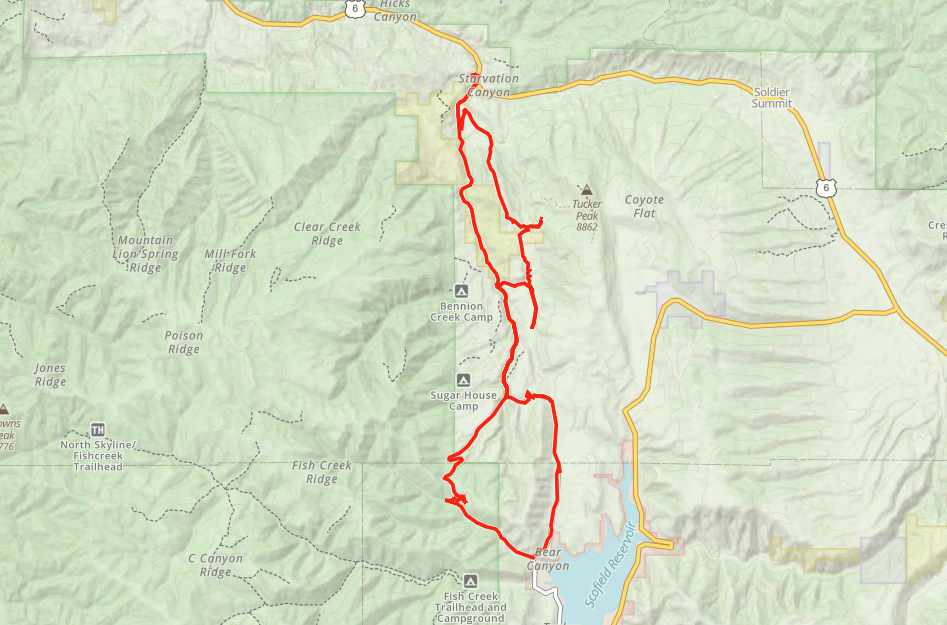 We recommend to download the GAIA App on your mobile device.
You can view and download the route from GAIA as well as see photos with their location geotagged on the trail.
Click "View 360 Map" to explore the trail in Google Street View and "See the Trail Before You Ride the Trail."
The GPX or KML files are available for you to download and use on your preferred app or device. 
Within our Key Points you will discover trail head parking, trail markers, points of interests, intersections as well as terrain and obstacles.
Click on the links below to reveal images and information