Salina to Mary's Nipple Loop
Facilities
OHVs
Terrain
Signage
Emergencies
Facilities
Lodging, restaurants, fuel and groceries in Salina. Pit toilets and picnic areas are scattered along the trail.
OHVs
Terrain
Signage
Emergencies
The Mary's Nipple Loop is a beginner-rated trail with some "more difficult" trails available at several intersections. The loop is made up of several segments of the Gooseberry Trail System on the Fishlake National Forest (Routes 9, 2, 1, 3) and took about 3.5 hours (moving) to cover the 60-mile loop.

We started at the Salina City Park and paralleled I-70 until we came to the trailhead for segment two of the trail. Salina makes a good base camp for your trip with restaurants, gas, groceries and some lodging.

This is another trail in the area where you can gain some elevation to beat the summer temps in the valley.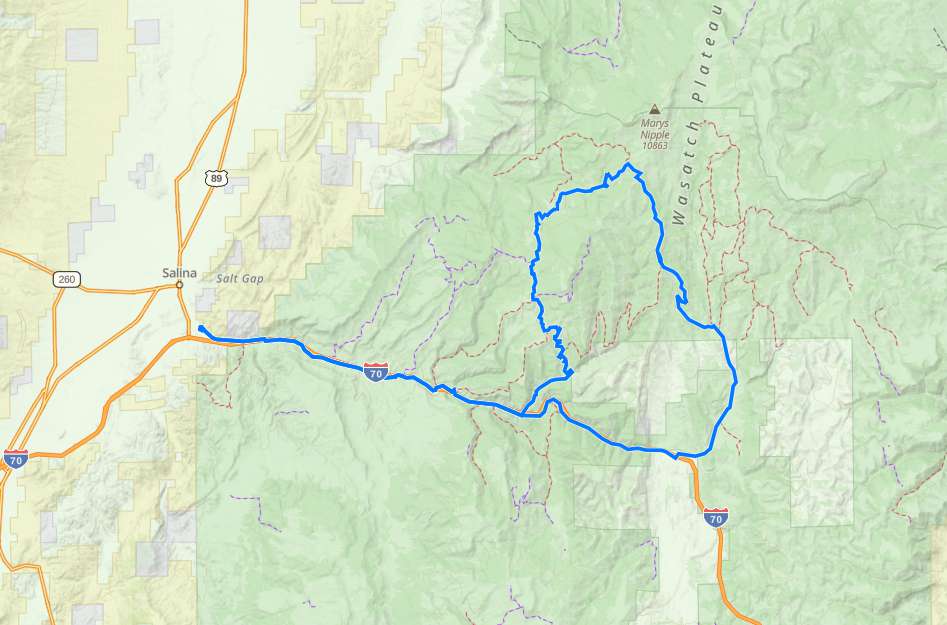 We recommend to download the GAIA App on your mobile device.
You can view and download the route from GAIA as well as see photos with their location geotagged on the trail.
Click "View 360 Map" to explore the trail in Google Street View and "See the Trail Before You Ride the Trail."
The GPX or KML files are available for you to download and use on your preferred app or device. 
Within our Key Points you will discover trail head parking, trail markers, points of interests, intersections as well as terrain and obstacles.
Click on the links below to reveal images and information
We started at the Salina City Park
Keep driving in the old HWY-10 and then turn right at this intersection.
Take this Left turn to start the loop trail.