Circleville to Panguitch Trail 
Facilities
OHVs
Terrain
Signage
Emergencies
Facilities
Lodging, restaurants, fuel and groceries are all available in Circleville. There are no services available along the trail.
OHVs
Terrain
Signage
Emergencies
Just over 200 miles from Salt Lake and 150 miles from St. George, Circleville is a great weekend destination for those looking for an easy trip. The Circleville to Panguitch OHV trail is a 37-mile "one way" ride south out of Circleville heading to Panguitch. You will climb up out of the valley to approx. 9,000 feet elevation (3,437′ of ascent) before dropping back down into the flats outside of Panguitch. We spent three hours riding the trail and there is a return trail we will also post that will make this a complete loop for those who are looking for a day long ride.

This segment of Highway 89 is pastoral from the highway with the Sevier River weaving it's way north. Circleville is a neat community to visit along the way and this trail gives a more rugged way to roll down to Panguitch. Butch Cassidy's childhood home is near the trailhead so be sure to visit sometime during this trip.

We stayed in Circleville where you will find options for lodging, camping, fuel and some supplies. This community is ATV-friendly and easy to get around (please remember to be courteous and keep your speed down). Follow some of our directions below to learn more about this trail before you plan your stay. Piute County puts on more organized events than any other locale, so if you what to go with a group there are a number of options.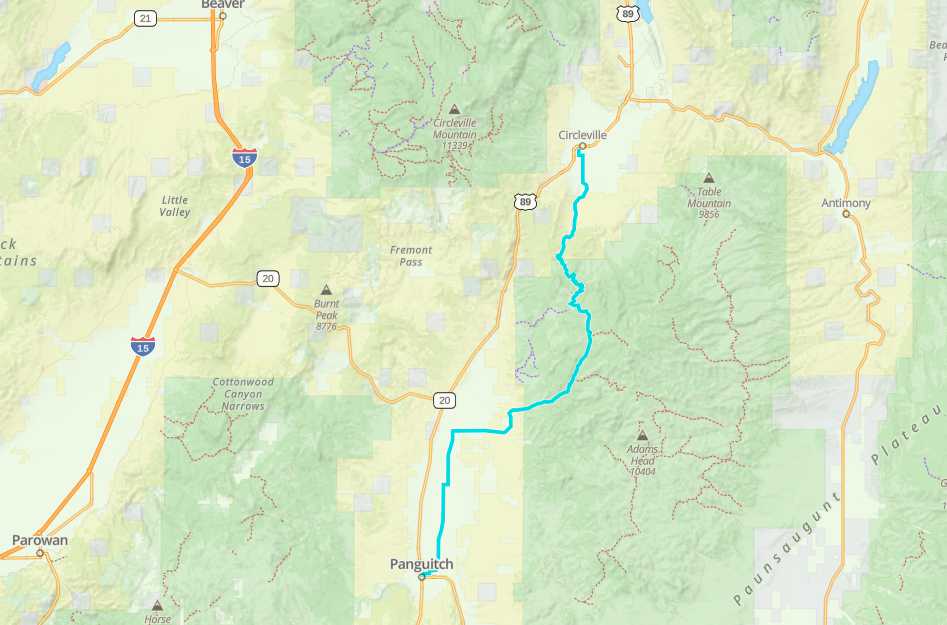 We recommend to download the GAIA App on your mobile device.
You can view and download the route from GAIA as well as see photos with their location geotagged on the trail.
Click "View 360 Map" to explore the trail in Google Street View and "See the Trail Before You Ride the Trail."
The GPX or KML files are available for you to download and use on your preferred app or device. 
Within our Key Points you will discover trail head parking, trail markers, points of interests, intersections as well as terrain and obstacles.
Click on the links below to reveal images and information