Marysvale to Circleville Trail
Facilities
OHVs
Terrain
Signage
Emergencies
Facilities
Food and supplies at Otter Creek Reservior Fuel, Food and Lodging in Marysvale
OHVs
Terrain
Signage
Emergencies
Marysvale to Circleville is a short exciting drive passing through great mountian scenery, Dock Spring and the Piute Reservoir. Be sure to stock up on supplies at the Sinclair convenience store before you depart or choose nearby Junction. A fun drive to the south will take you through BLM and state land. The open and winding valleys make for a great half-day trip!

This trail is about 27 miles "one way" and it takes about 2 hours to complete with average speed 13mph.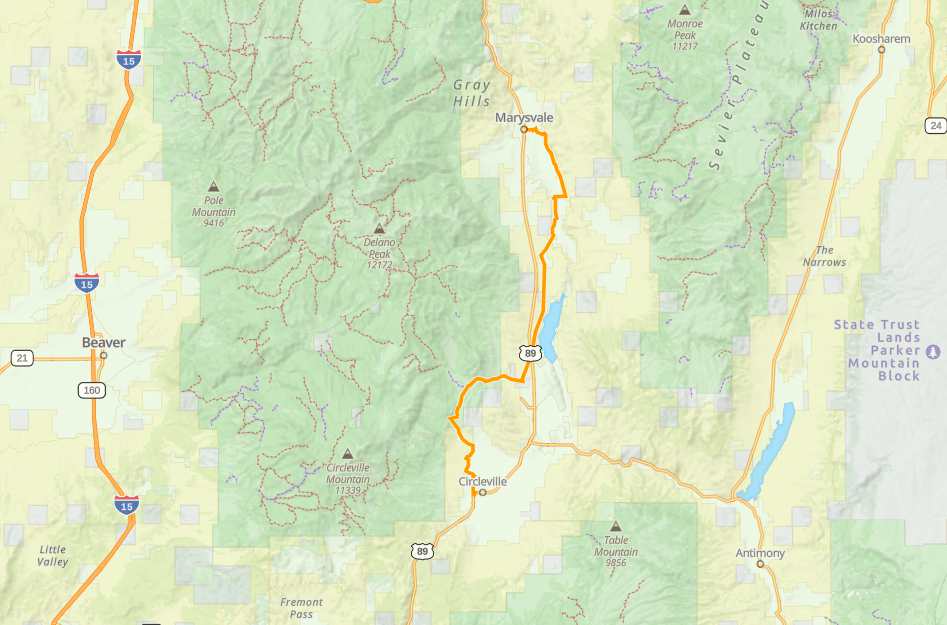 We recommend to download the GAIA App on your mobile device.
You can view and download the route from GAIA as well as see photos with their location geotagged on the trail.
Click "View 360 Map" to explore the trail in Google Street View and "See the Trail Before You Ride the Trail."
The GPX or KML files are available for you to download and use on your preferred app or device. 
Within our Key Points you will discover trail head parking, trail markers, points of interests, intersections as well as terrain and obstacles.
Click on the links below to reveal images and information