Marysvale to Otter Creek Trail
Facilities
OHVs
Terrain
Signage
Emergencies
Facilities
Food and supplies at Otter Creek Reservoir. Fuel, food and lodging in Marysvale.
OHVs
Terrain
Signage
Emergencies
Marysvale to Otter Creek OHV Trail is a dynamic and scenic ride just about half an hour south of Richfield. Marysvale is the perfect launching point for a fantastic ride with gas, food and supplies all available at your fingertips. Please stay on established roads and marked trails. Below you will find map resources and some suggestions for riding in this area.

Our ride took about 2.5 hours at 16 mph covering a distance of 37 miles. Riding starts off with a paved road and then consists of mostly graded county roads, and has terrain virtually any machine could handle but can still be a fun challenge.

The ride starts out at Lizzie and Charlie's RV / ATV Park, which is a wonderful starting point with excellent service for your offroading needs.

Be sure to pack ponchos as the mountainous section of the ride tends to rain during the summer. The Otter Creek Reservoir has great fishing so be sure to stock up on gear at the Sinclair convenience store before you depart.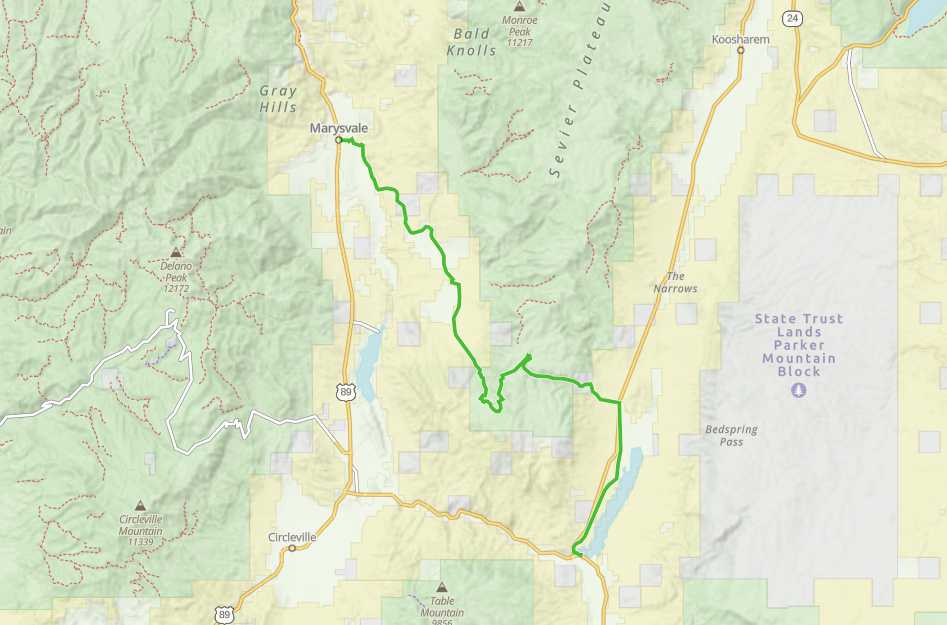 We recommend to download the GAIA App on your mobile device.
You can view and download the route from GAIA as well as see photos with their location geotagged on the trail.
Click "View 360 Map" to explore the trail in Google Street View and "See the Trail Before You Ride the Trail."
The GPX or KML files are available for you to download and use on your preferred app or device. 
Within our Key Points you will discover trail head parking, trail markers, points of interests, intersections as well as terrain and obstacles.
Click on the links below to reveal images and information