Salina to Gooseberry OHV Trail
Facilities
OHVs
Terrain
Signage
Emergencies
Facilities
Lodging, restaurants, fuel and groceries in Salina. Pit toilets and picnic areas are scattered along the trail.
OHVs
Terrain
Signage
Emergencies
The Salina to Gooseberry Loop is a great beginner trail that can accommodate virtually any vehicle. If you want to get off the pavement into some trees you will want to bring a 50″ or smaller machine because there is some great riding in this area that you can access from this route. The entire loop is 70 miles and took us 5.5 hours (moving) to complete. Plan a full day for this ride because there are a number of small ponds and reservoirs to hike around and look at. This is also a good beginner trail because there is a fair amount of pavement and easy dirt roads to ride on.

We started at the Salina City Park and crossed under I-70 to start up the canyon. Nearby Salina has a few restaurants, gas, groceries and some lodging. There is a variety of dispersed and developed camping in the area. If you plan you trip around the annual Eyes to the Sky Balloon Festival (https://eyestotheskyballoonfestival.com/), you will have enough time in the morning to catch the balloons before heading out on the trail to beat the heat in the valley.

The elevation makes this a good summer or early fall ride, especially if you go when the leaves are changing. Fish Lake and Pando are nearby if you continue on Forest Road 640 after you get to the top of the trail.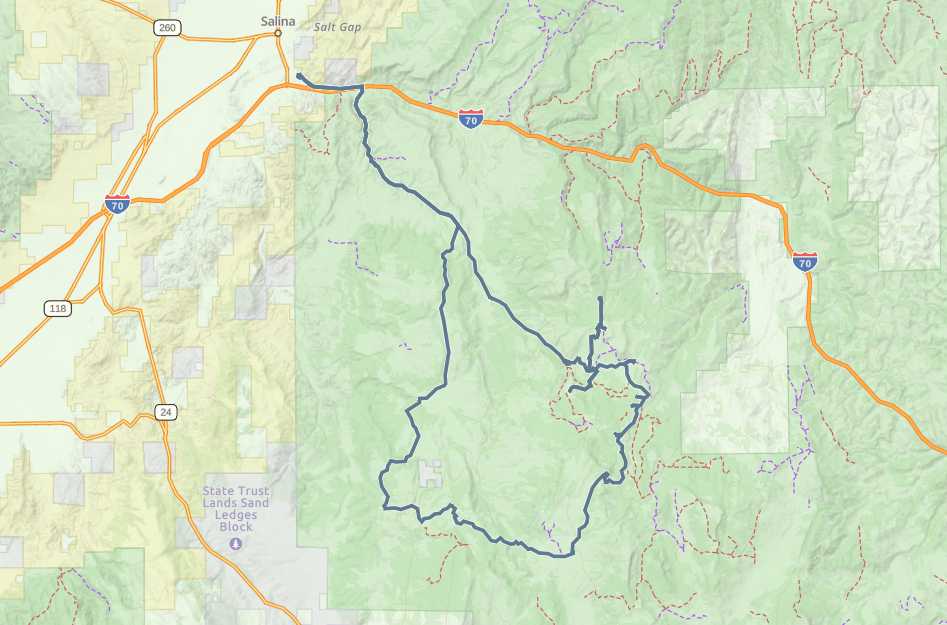 We recommend to download the GAIA App on your mobile device.
You can view and download the route from GAIA as well as see photos with their location geotagged on the trail.
Click "View 360 Map" to explore the trail in Google Street View and "See the Trail Before You Ride the Trail."
The GPX or KML files are available for you to download and use on your preferred app or device. 
Within our Key Points you will discover trail head parking, trail markers, points of interests, intersections as well as terrain and obstacles.
Click on the links below to reveal images and information