Facilities
OHVs
Terrain
Signage
Emergencies
Facilities
Lodging, restaurants, fuel and groceries are all available in Marysvale, Utah.
OHVs
Terrain
Signage
Emergencies
The Marysvale Maze OHV trail will take you on a number of different routes depending on the route you take. There are three different loops that can be taken. Because there are so many forks on the route we took and the terrain looks similar, you will really want to download the GPX file before heading out.

Depending on the route you can visit the Antelope Range with great vistas or visit the old VCA or Prospector mines. We hope this will give you a good preview of a solid ride for beginner to intermediate riders.

Basing out of Marysvale allows for close access to the trailhead to get an early start on the trail without a lot of additional travel.

We spent 4.5 hours riding the trail for 40 miles at approximately 8 mph. You will want to plan on a long day out to allow for plenty of time for getting back.

We rode the trail as an out and back and these numbers are based on taking the full loop. You can shorten the trip by turning on Flat Top Road can cut the trip approximately in half or cutting over the Antelope Range using the VCA Mine Rd and doing 3/4 of the loop.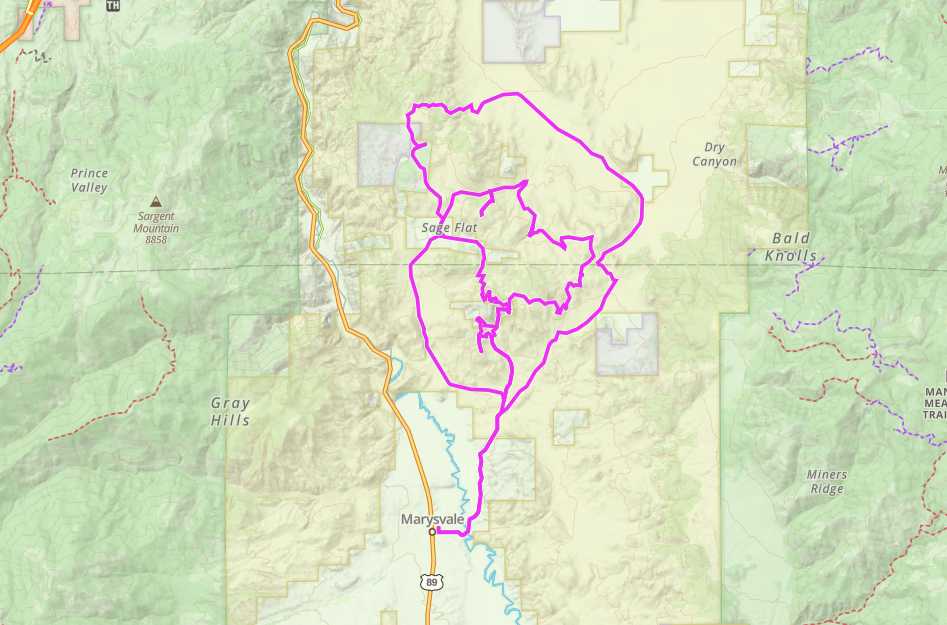 We recommend to download the GAIA App on your mobile device.
You can view and download the route from GAIA as well as see photos with their location geotagged on the trail.
Click "View 360 Map" to explore the trail in Google Street View and "See the Trail Before You Ride the Trail."
The GPX or KML files are available for you to download and use on your preferred app or device. 
Within our Key Points you will discover trail head parking, trail markers, points of interests, intersections as well as terrain and obstacles.
Click on the links below to reveal images and information
you can stage at Cottonwood Downs – Marysvale City Park.
keep driving in Bm5831 road to this fork. At this point you can explore the trail it's pretty fun ride. we highly recommend to use Gaia or download the GPX or KML files.