Arapeen OHV Trail: Mt. Pleasant Loop
Facilities
OHVs
Terrain
Signage
Emergencies
Facilities
Mt. Pleasant offers a great base camp with motels, restaurants and fuel.
OHVs
Terrain
Signage
Emergencies
The Mt. Pleasant Loop starts after riding up the canyon outside of Mt. Pleasant on Forest Route 0037 until you come to Skyline Drive. This loop sits between 8,000 and 10,000 feet in elevation making for a great escape from the heat of the summer. We encountered a summer rainstorm and want to remind you that a jacket and some extra gear are helpful when the blue sky begins to turn dark.

Today, we road about 45 miles in 5 hours with an average speed of 10 mph (there is almost 4,000 feet of climbing when you first head out on the trail). Once on top, there are views in every direction. This trail will take you past Huntington and Miller Flat Reservoirs offering some fun stops along the way. We'd suggest you plan the whole day for your ride with a little extra time to find a good malt and a burger in Mt. Pleasant.

The trail is close to Mt. Pleasant where you will find the necessary amenities for a stocking up for a day on the trail as well as places to stay at the end of your day.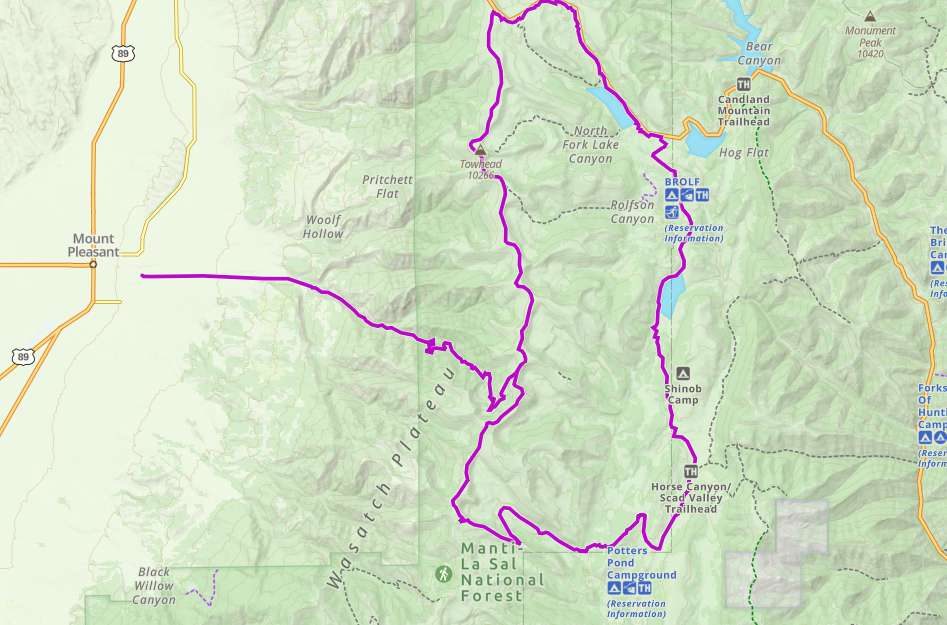 We recommend to download the GAIA App on your mobile device.
You can view and download the route from GAIA as well as see photos with their location geotagged on the trail.
Click "View 360 Map" to explore the trail in Google Street View and "See the Trail Before You Ride the Trail."
The GPX or KML files are available for you to download and use on your preferred app or device. 
Within our Key Points you will discover trail head parking, trail markers, points of interests, intersections as well as terrain and obstacles.
Click on the links below to reveal images and information