Facilities
OHVs
Terrain
Signage
Emergencies
Facilities
With Blanding as a base camp, there are: 6 motels, a handful of Airbnb stops, 2 RV parks, a campground, 8 dining options, 2 Grocery stores and 4 Gas Stations. Additional amenities can found down the road 26 miles in Bluff.
OHVs
Terrain
Signage
Emergencies
River House Ruins is the objective of this 12 mile excursion down Comb Ridge to the shores of the San Juan River. The trail head lies 33 miles southwest of Blanding Utah on Highway 163. River House is the remnants of an Anasazi Community perched along the walls of the formation known as the Rincone. The well preserved ancient Puebloan village sits about half way between where the junction of Comb Ridge converges with the San Juan River and where the route ends near the Kachina Petroglyph panel. The route is primarily easy for a standard Side by Side and requires no special build out. But there are some rock formations that must be traversed along the route which might spin a tire or two and the way over them.

The trailhead is 26 miles from Blanding and starts near Navajo Springs. There are ample pull outs to unload after you exit Highway 163 at county road 235. The route generally works its way south along Comb Ridge (which when looking at it from the air is pretty self-explanatory). At the convergence of the San Juan it heads back to the north.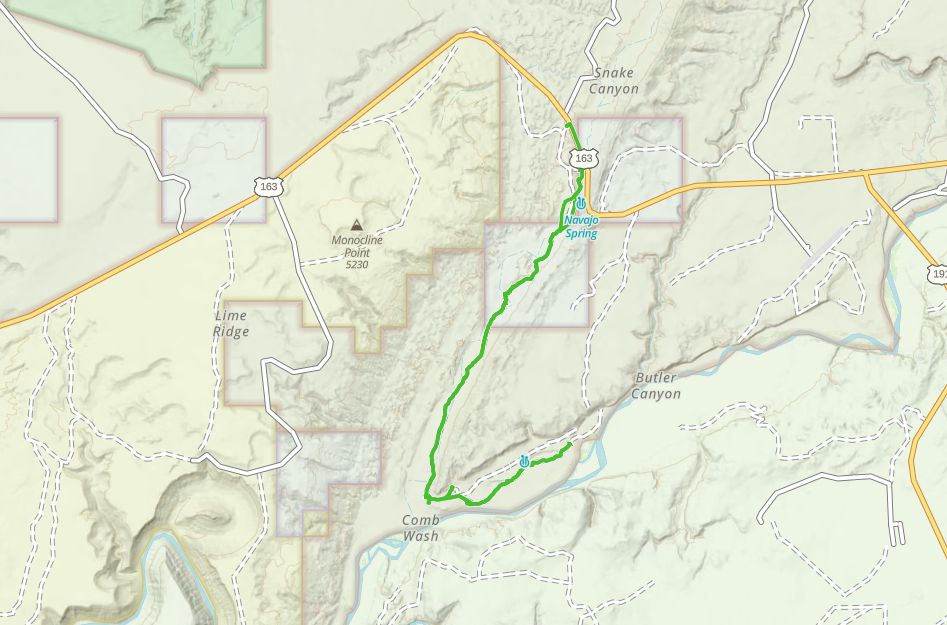 We recommend to download the GAIA App on your mobile device.
You can view and download the route from GAIA as well as see photos with their location geotagged on the trail.
Click "View 360 Map" to explore the trail in Google Street View and "See the Trail Before You Ride the Trail."
The GPX or KML files are available for you to download and use on your preferred app or device. 
Within our Key Points you will discover trail head parking, trail markers, points of interests, intersections as well as terrain and obstacles.
Click on the links below to reveal images and information