Facilities
OHVs
Terrain
Signage
Emergencies
Facilities
Trail head starts at the Beagle Park next to the Richfield Visitors center on north Main in Richfield. Street Legal is required for this trail. Richfield has 17 motels, a KOA campground, 27 restaurants, 4 Grocery Stores and 17 Gas Stations to choose from.
OHVs
Terrain
Signage
Emergencies
The Richfield to Koosharem Loop is a loop trail that originates at the Freedom Park at the north end of Main Street in Richfield. The route travels along surface streets and a short length of state highway so this trail will require a Street Legal Registration on your machine. The route traverses west through the Sevier valley through the town of Glenwood and then climbs up to the tops of the Sevier Plateau past Big Lake over the Magleby Pass. It then skirts along the slopes of Cove and Monroe Mountain then drops down Koosharem Canyon to the town of Koosharem. The route then heads north through the Koosharem Valley up alone the west side of Bear Valley following generally along the power lines until it rejoins the original route just above Glenwood.

The first 8 miles of this route switches back and forth between paved and dirt roads along the cool agricultural fields of Sevier Valley. After you traverse the hamlet of Glenwood you will start your assent up into the hills. Roads are generally passable on this route with very little high clearance riding.

Be sure to stop for lunch at the Koosharem Café. There fare is good home style cooking.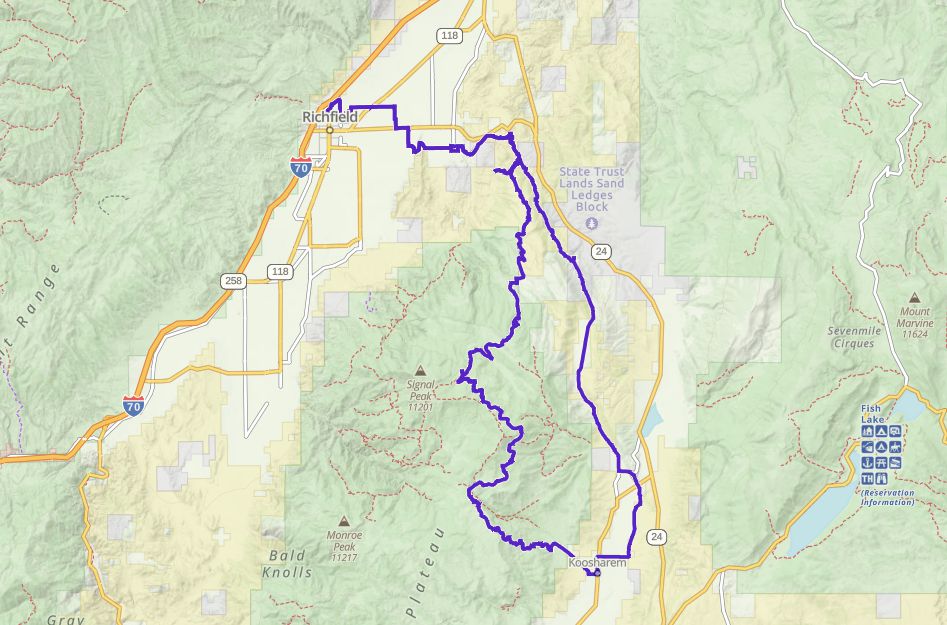 We recommend to download the GAIA App on your mobile device.
You can view and download the route from GAIA as well as see photos with their location geotagged on the trail.
Click "View 360 Map" to explore the trail in Google Street View and "See the Trail Before You Ride the Trail."
The GPX or KML files are available for you to download and use on your preferred app or device. 
Within our Key Points you will discover trail head parking, trail markers, points of interests, intersections as well as terrain and obstacles.
Click on the links below to reveal images and information