Bull Creek Pass Scenic Byway
Facilities
OHVs
Terrain
Signage
Emergencies
Facilities
The trail head parking area we used is located south of Hanksville UT. There are no facilities outside of a few signs at the trailhead. This is a large parking area capable of handling the largest rigs. If you plan to camp here, no problem but, you may need to a little work to get your RV leveled. The exit from the highway is steep but well maintained and you should have no problem even when pulling a large trailer.
OHVs
Terrain
Signage
Emergencies
This is a very unique and rather unexpected ride in this remote part of Utah. This route follows a "Scenic Biway" west towards Bull creek pass looping around to the South west side of South Summit Ridge and putting you in short hiking distance of the highest point in the Henry Mountains. You begin in a treeless, almost zero plant life, desert like, environment and quickly find yourself surrounded by Juniper and Pinion trees that almost as quickly are replaced by tall pines and quaking aspen which soon disappear as you crest above the tree line. Keep an eye out an you are likely to spot mule deer. The trail eventually drops back down into the desert floor and you find yourself on Highway 95 a few miles south of your starting point
If you park at the 'Little Egypt' parking area, approximately 25 miles south of Hanksville on the west side of highway 95 you can checkout the Little Egypt rock formations that are reminiscent of those you might find at Goblin valley to the north, before beginning your ride.
More info on Little Egypt
More info on South Summit Ridge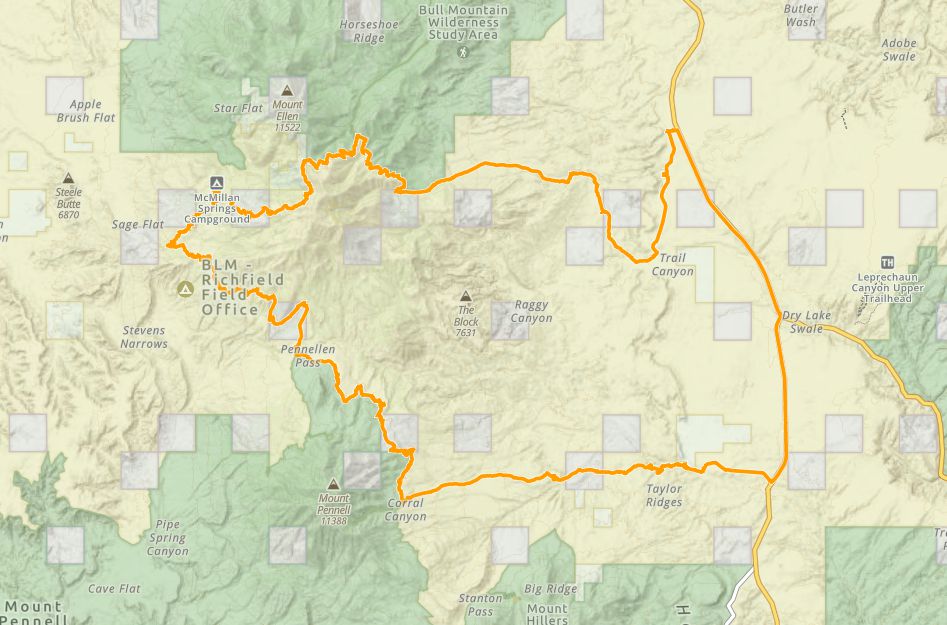 We recommend to download the GAIA App on your mobile device.
You can view and download the route from GAIA as well as see photos with their location geotagged on the trail.
Click "View 360 Map" to explore the trail in Google Street View and "See the Trail Before You Ride the Trail."
The GPX or KML files are available for you to download and use on your preferred app or device. 
Within our Key Points you will discover trail head parking, trail markers, points of interests, intersections as well as terrain and obstacles.
Click on the links below to reveal images and information