Facilities
OHVs
Terrain
Signage
Emergencies
Facilities
With Blanding as a base camp, there are: 6 motels, a handful of Airbnb stops, 2 RV parks, a campground, 8 dining options, 2 Grocery stores and 4 Gas Stations. Additional amenities can found down the road 26 miles in Bluff.
OHVs
Terrain
Signage
Emergencies
Recapture Rim is that perfect ride to take early in the morning or later in the day when you have other things to do. It is a loop that originates from downtown Blanding and loops out to the rim of Recapture Canyon follows the rim for a couple of miles then swings back around into town. This is a route that requires Street Legal Machines as you cross a fair bit of paved road later in the trip. Starting on the North end of town just across from the Visitor Center. You start on dirt headed East on Trail #1 Follow that until the rout splits, then keep right. Follow the rim of the canyon until you get to Brown's Canyon road, then turn right. Right again on Perkins Road. Follow Perkins to Main Street then north to Pioneer Park.

The Trailhead is right in Blanding.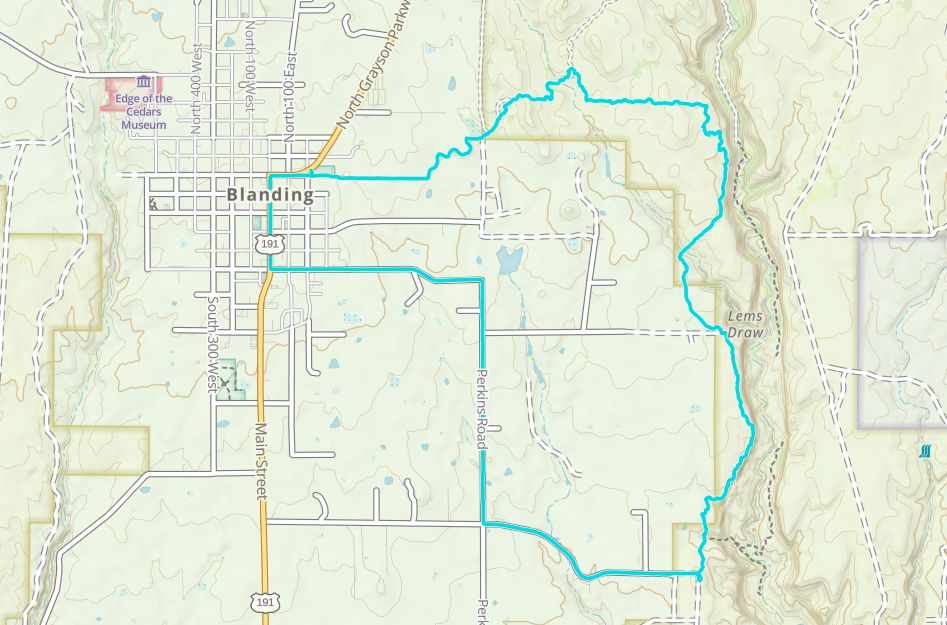 We recommend to download the GAIA App on your mobile device.
You can view and download the route from GAIA as well as see photos with their location geotagged on the trail.
Click "View 360 Map" to explore the trail in Google Street View and "See the Trail Before You Ride the Trail."
The GPX or KML files are available for you to download and use on your preferred app or device. 
Within our Key Points you will discover trail head parking, trail markers, points of interests, intersections as well as terrain and obstacles.
Click on the links below to reveal images and information