Facilities
OHVs
Terrain
Signage
Emergencies
Facilities
Lodging, restaurants, fuel and groceries are all available in Escalante, Utah. Staging can be done from the town of Escalante, or the Posey Lake Campground if you have a campsite reserved.
OHVs
Terrain
Signage
Emergencies
The Posey – Griffin Top Loop is a long, beginner style ride mostly sticking to maintained dirt and gravel roads. The length of this trail, almost 70 miles, makes it an all day ride, but due to road conditions, travel speed is optimal at nearly 20 mph.
Riders can expect to see beautiful pine forests and stretches of desert scrub. A few lovely lookout points and bodies of water make for fun stops along the way. The trail travels through Dixie National Forest, so make sure you familiarize yourself with their rules and regulations at:
https://www.fs.usda.gov/dixie.
Street legal machines are recommended for Posey-Griffin Top Loop as it is easiest to start in town, and the loop concludes on paved highway. You can start in Escalante at the town park and ride over to Posey Lake Road and drive north until the pavement eventually becomes a gravel road. To visit Griffin Top and complete the loop you'll be traveling through several intersections, so keep an eye out for trail signage and follow directions given on the signs.
There is plenty of lodging in and just outside of the town of Escalante. The town has every necessity between grocers and gas stations. There is also a Dixie National Forest campground if you'd like to camp off of the trail. Information about the Posey Lake Campground can be found here:
https://www.recreation.gov/camping/campgrounds/231916.
Street legal offroad vehicles were recently allowed to travel on county-maintained dirt roads in the Grand Staircase-Escalante National Monument and it has become extremely accessible for offroad riding opportunities.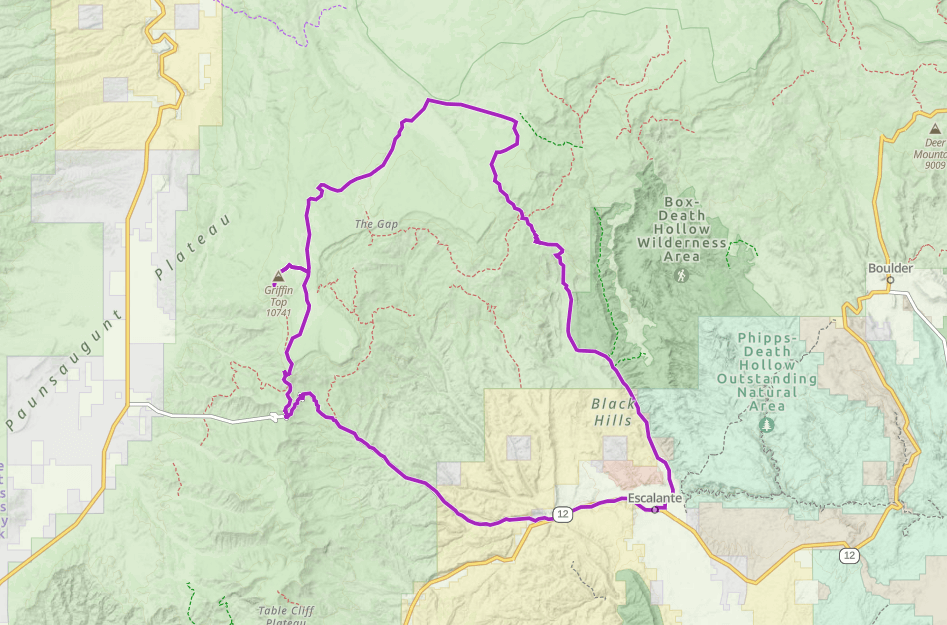 We recommend to download the GAIA App on your mobile device.
You can view and download the route from GAIA as well as see photos with their location geotagged on the trail.
Click "View 360 Map" to explore the trail in Google Street View and "See the Trail Before You Ride the Trail."
The GPX or KML files are available for you to download and use on your preferred app or device. 
Within our Key Points you will discover trail head parking, trail markers, points of interests, intersections as well as terrain and obstacles.
Click on the links below to reveal images and information
4.0 out of 5 stars (based on 1 review)
Your map on your website references to an location with the same name on the Philippines. Just correct the coordinates.