Poison Spring to The Big Ridge
Facilities
OHVs
Terrain
Signage
Emergencies
Facilities
No Facilities on the trail. Fuel, food and lodging in nearby Hanksville.
OHVs
Terrain
Signage
Emergencies
The Poison Spring OHV trail will take you on a remote desert drive crossing the Dirty Devil and riding among buttes and canyons that are hard to describe with words or pictures. We hope this will give you a good preview of a great trail for experienced riders, and we would strongly suggest taking some friends along and letting those at home know where you are going. Walking out of this area really isn't an option, and it is remote.

Butch Cassidy is said to have hid out here among the remote canyons and red rocks in addition to the indigenous people who made these canyons their homes. Please respect the trails and any artifacts you may come across. Please also note the trail follows the Fiddler Butte Wilderness Study Area boundary just before you cross the Dirty Devil (that boundary also happens to run along the bench of the trail with a steep drop off so staying on the road is highly encouraged).

Basing out of Hanksville, Utah (17 miles from the trailhead) allows for close access to the trailhead to get an early start on the trail without a lot of additional travel. We spent six hours riding the trail for 70 miles at approximately 12 mph. You will want to plan on a long day out to allow for plenty of time for getting back. We rode the trail as an out and back, but there are trails in the area that will take you all the way back to highway 95 at Hite near Lake Powell (you will need a street-legal machine to ride within the boundaries of the Glen Canyon National Recreation Area). You can shorten the trip by turning around at the Dirty Devil or the Dirty Devil may turn you around which still makes for five hours of fantastic riding.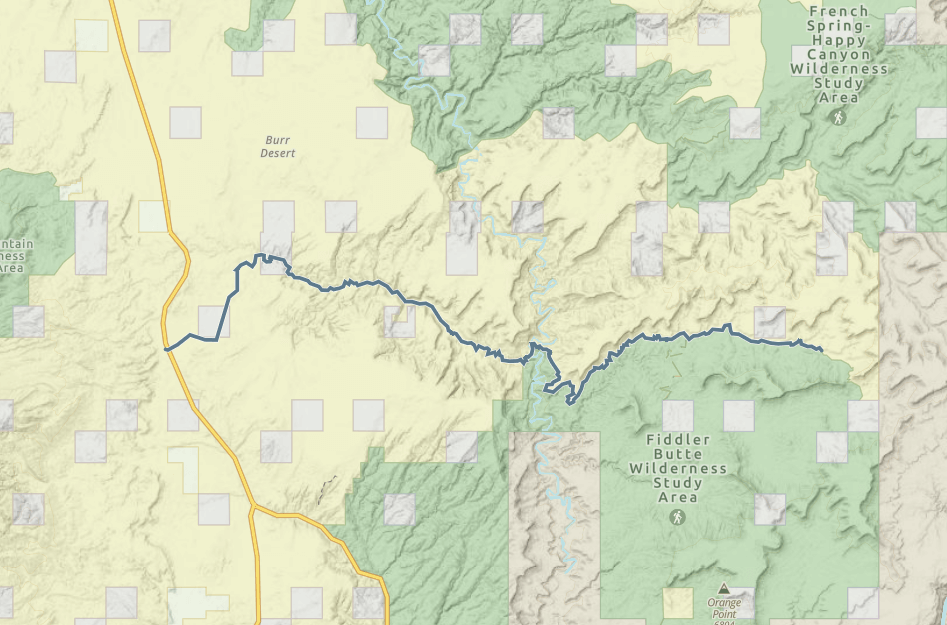 We recommend to download the GAIA App on your mobile device.
You can view and download the route from GAIA as well as see photos with their location geotagged on the trail.
Click "View 360 Map" to explore the trail in Google Street View and "See the Trail Before You Ride the Trail."
The GPX or KML files are available for you to download and use on your preferred app or device. 
Within our Key Points you will discover trail head parking, trail markers, points of interests, intersections as well as terrain and obstacles.
Click on the links below to reveal images and information