Facilities
OHVs
Terrain
Signage
Emergencies
Facilities
Delta as a base camp has a variety of lodging options: 4 motels, and an RV park. There are 8 different restaurants or food joints (not counting Maverick). Provisions are easy to find as Delta has two grocery stores and both a Dollar General and Family Dollar store. There is a stand alone pharmacy on Main Street. Hardware can be found at the IFA store, and Ace Hardware and a full service lumber yard.
OHVs
Terrain
Signage
Emergencies
The Pahvante Butte Loop Trail is probably easier to ride than it is to spell, but riding this route is like being on a geologist's field trip. The trail starts out of downtown Delta and works its way west and south. In a normal year this area will be filled with countless shallow water ponds that are all connected. It is a remarkable place to see a wide variety of migratory birds.

This is a fast desert trail. It takes about 4 hours to cover with stops and it covers 83 miles. I am a big Hatari fan (if you have never seen it, I recommend it). I mention this because as you zip across the very flat west desert floor, it reminds me of John Wayne racing across the African desert in search of zoo animals. It is kind of fun to be able to zip down a desert trail at 30 miles per hour.

Across the bottom of the loop there are a couple of fascinating landmarks that are worth a stop. The first is the Great Stone Face. It is just as it sounds, a lone volcanic tower shaped like an angular face. As you work further east and south you will skirt the Clear Lake Waterfowl Management Area. In normal years this has a series of small shallow lakes flanked by wetlands that attract a wide variety of migratory birds (nothing like seeing a sandhill crane take off in flight alongside you as you are rolling down the dirt road.

On the back half of the loop is the Trails namesake: the Pahvant Butte. It is the remains of a 16,000 year old volcano that erupted when it was underwater beneath Lake Bonneville. Over the period of only a few weeks, it is believed to form the cone of the volcano that erupted all those millenia ago. The lower part of the cone has fallen in as the shoreline of the ancient lake Bonneville eroded the rock.

Be sure to also stop at the lace curtain. A dripping molten wall of solid rock creating the look of tattered lace curtains. From there it is northbound back to Delta City. What really makes this trail worthy of a day is the solitude. Notice that on the day we mapped this route we did not see one solitary person, other than in our group..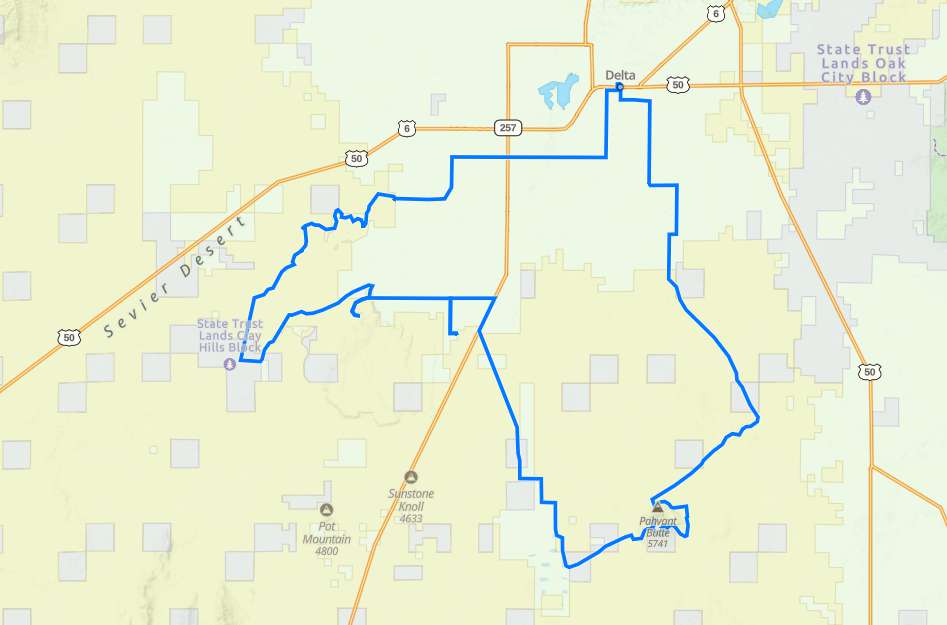 We recommend to download the GAIA App on your mobile device.
You can view and download the route from GAIA as well as see photos with their location geotagged on the trail.
Click "View 360 Map" to explore the trail in Google Street View and "See the Trail Before You Ride the Trail."
The GPX or KML files are available for you to download and use on your preferred app or device. 
Within our Key Points you will discover trail head parking, trail markers, points of interests, intersections as well as terrain and obstacles.
Click on the links below to reveal images and information