Facilities
OHVs
Terrain
Signage
Emergencies
Facilities
There is lodging and dining at the Thunderbird Lodge in Mt. Carmel. Across the Street is the Thunderbird RV Park.There are options for fuel at both Mt. Carmel and in Orderville. On the Orderville end of civilization there are four places to find food or drink (we have never stopped there, but "Archies Food to DIe For" sounds like it could be an interesting meal).. There are several B&B facilities in Orderville. You can get provisions like food and pharma in Orderville along with a Hardware Store.
OHVs
Terrain
Signage
Emergencies
The Four Mile Canyon to Kanab Creek loop is an ideal trip for the shoulder seasons of spring and fall. This is not to say you can't ride in the summer or in a dry winter. This route does require a street legal machine to complete. The terrain will be paved road, then gravel road, then packed dirt giving way to rocky terrain and then Sand.

You follow U.S.89 to Glendale, then right on Glendale Bench. The bench is graded gravel road and pretty easy sailing. When you make the 90 degree turn off of the "Bench" road, the path narrows substantially and becomes quite rocky as you make your way down into the bottom of the draw. The road then widens out quite a bit and you find yourself maneuvering between trees. The route then detours around White Tower, a prominent land mark. Follow that route until you intersect with Red Slot Canyon Road (a right turn will take you to Peekaboo Slot Canyon). Continue on White Tower Road until you reach U.S. 89.

On the part of the loop south of U.S. 89 the high point is as stop at Red Knoll (both figuratively and literally). From this point until you arrive at Mt. Carmel Junction, you will be riding mostly on sand.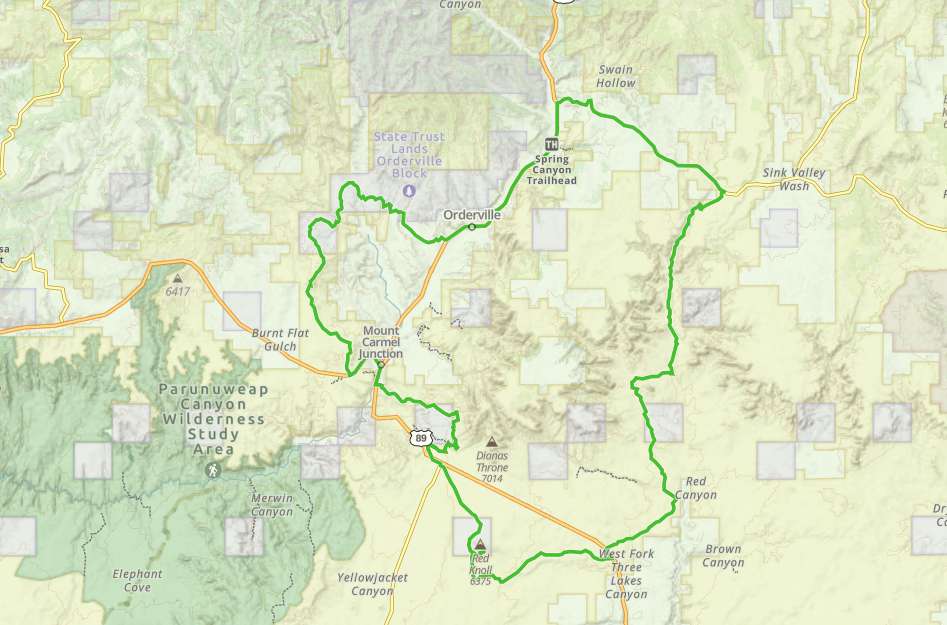 We recommend to download the GAIA App on your mobile device.
You can view and download the route from GAIA as well as see photos with their location geotagged on the trail.
Click "View 360 Map" to explore the trail in Google Street View and "See the Trail Before You Ride the Trail."
The GPX or KML files are available for you to download and use on your preferred app or device. 
Within our Key Points you will discover trail head parking, trail markers, points of interests, intersections as well as terrain and obstacles.
Click on the links below to reveal images and information
We started our journey in Orderville driving North in State St.
The terrain will be very rocky at this section.