Facilities
OHVs
Terrain
Signage
Emergencies
Facilities
None, but you are in Green River.

Maps: Available in Price at the BLM Field Office. 125 South 600 West Price, UT 84501 Email: utprmail@blm.gov Phone: (435) 636-3600
OHVs
Terrain
Signage
Emergencies
The Orange trails are located in central Utah in Emery County and begin in the town Green River, 203 miles South East of Provo Utah. The Trailhead is located on the south side of I-70. Just west of the E. Main St. Exit off I-70 (the east side of town), turn West on New Area51 Rd 1,000 ft to the first intersection. You will see a very large parking lot on the south side of the intersection where you can park and turn even the largest rigs. If you are staying in Green River and simply want to ride out of town find 2270E, head south to Elgin Rd, turn right on Elgin to 800E. Follow 800E southward till it joins 900S and turn left. This will take you to the trailhead mentioned above.

The Orange Trail explores a great expanse between Green River and the Moab area. Its features vary greatly and includes things like the Crystal Geyser. There are no services along the 70 miles of trail we rode, so stock up on anything you need before leaving Green River. This is a great place to get away and enjoy some solitude while exploring a seldom seen part of Utah. The riding is pleasant and scenic, trails vary from easy to intermediate (depending upon recent weather and erosion).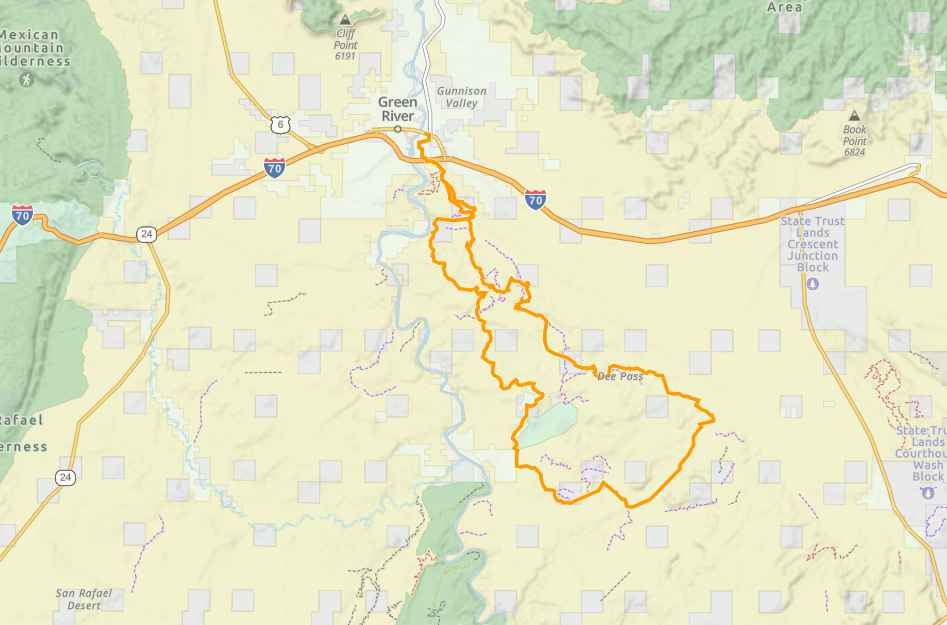 We recommend to download the GAIA App on your mobile device.
You can view and download the route from GAIA as well as see photos with their location geotagged on the trail.
Click "View 360 Map" to explore the trail in Google Street View and "See the Trail Before You Ride the Trail."
The GPX or KML files are available for you to download and use on your preferred app or device. 
Within our Key Points you will discover trail head parking, trail markers, points of interests, intersections as well as terrain and obstacles.
Click on the links below to reveal images and information