Mineral Mountain OHV Trail
Facilities
OHVs
Terrain
Signage
Emergencies
Facilities
No services along the trail. The nearest fuel is in Veyo. The nearby St. George area offers everything you may need for your trip.
OHVs
Terrain
Signage
Emergencies
The Mineral Mountain OHV Loop will take you on winding gravel and dirt roads through the pinyon and juniper covered mountains. There are incredible views of the Beaver Dam Wash, Bull Valley and Clover Mountain Range in Nevada. The loop we took was 55 miles and took us five hours to complete (riding time).
There are a number of other trails in the area that can take you farther north into the mountains or that drop down onto the desert in the Beaver Dam Wash National Conservation Area.
The trailhead lies north of Gunlock off of the main route that goes through town or you can reach the trailhead by heading west through Veyo toward Gunlock.
There are lots of options for lodging and amenities in nearby St. George. There are also a few camping spots at Gunlock State Park (get a reservation, they fill fast) if you are looking for a place you can ride from.
A variation of this trail is offered as part of the Tri-State ATV Jamboree that takes place annually in March. You can learn more about the event and trails they run here:
thetristateatvclub.com
. This trail is referred to as Gunlock/Gold Strike on their site.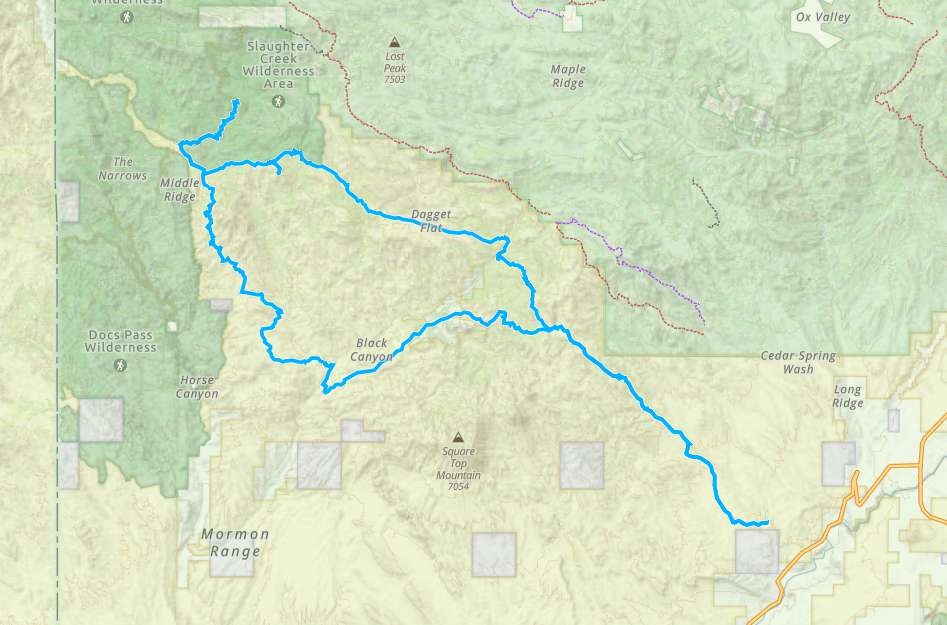 We recommend to download the GAIA App on your mobile device.
You can view and download the route from GAIA as well as see photos with their location geotagged on the trail.
Click "View 360 Map" to explore the trail in Google Street View and "See the Trail Before You Ride the Trail."
The GPX or KML files are available for you to download and use on your preferred app or device. 
Within our Key Points you will discover trail head parking, trail markers, points of interests, intersections as well as terrain and obstacles.
Click on the links below to reveal images and information