Facilities
OHVs
Terrain
Signage
Emergencies
Facilities
There are a variety of options for lodging, camping, restaurants, fuel and groceries in Kanab, 47 miles from the trailhead. There are no services along the Cottonwood Road. Tropic has lodging, food and supplies at the end of your ride.
OHVs
Terrain
Signage
Emergencies
Cottonwood Canyon is a 50-mile road from US 89 east of Kanab to Highway 12 at Cannonville. It provides access to numerous Jeep trails and hiking trails, as well as Candyland, Grosvenor Arch and The Cockscomb.

It took us four hours to drive this road from Highway 89 to our stop in Tropic. Tropic serves as a great destination at the end of the trail where you will find lodging, restaurant, and fuel.

We would rate this as an intermediate trail because of the distance and proximity to services. Take plenty of water, spare tire/tools and let people know where you are going/when you plan to return. Most of the trail is a maintained county road but there are some rocky sections and wash-boarding is common if it's been a while since the road has been graded.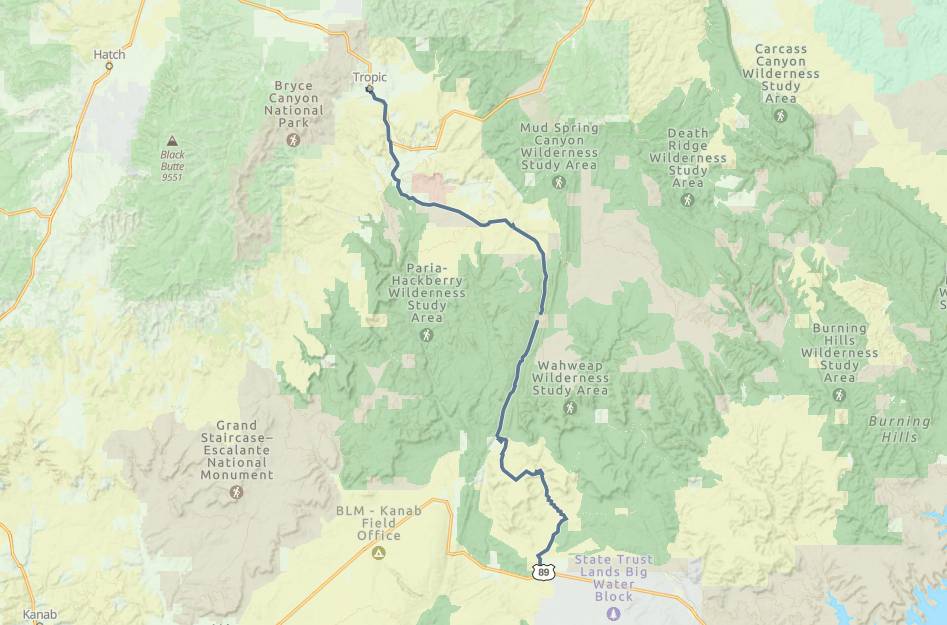 We recommend to download the GAIA App on your mobile device.
You can view and download the route from GAIA as well as see photos with their location geotagged on the trail.
Click "View 360 Map" to explore the trail in Google Street View and "See the Trail Before You Ride the Trail."
The GPX or KML files are available for you to download and use on your preferred app or device. 
Within our Key Points you will discover trail head parking, trail markers, points of interests, intersections as well as terrain and obstacles.
Click on the links below to reveal images and information