Collet Top Loop OHV Trail
Facilities
OHVs
Terrain
Signage
Emergencies
Facilities
Lodging, restaurants, fuel and groceries are all available in Escalante, Utah. Staging can be done from the town of Escalante. The trail stretches to very remote areas so don't count on facilities once you depart.
OHVs
Terrain
Signage
Emergencies
The Collet Top Loop is an intermediate ride south of the town of Escalante in the Grand Staircase-Escalante National Monument. This is an all day ride that takes you almost 73 miles in about six hours of drive time.

The trail follows a few different BLM Routes including BLM 200, 230 and 300. These routes take you through areas of Cedar Wash, Hole-in-the-Rock Road and Collet Top.

The ride features mostly maintained dirt roads, but the road can get a little rough while traveling through the washes located at the bottoms of canyons.

Throughout the ride you're greeted by amazing geological structures the monument is known for, as well as some archaelogical sites as well. There are opportunities for short hikes through the trail that treat you to points of interest, including the Cedar Wash Arch, and Twenty Mile Dinosaur Tracks.

There is plenty of lodging in and just outside of the town of Escalante. The town has every necessity between grocers and gas stations. There is also opportunity for primitive camping along Hole-in-the-Rock Road.

Prepare adequately for each season. The area is very hot and dry during the summer, so extra water is highly recommended. During the winter the washes can get wet or even frozen over. Drive cautiously through these areas. Flash flooding is also a possibility. Keep an eye on the weather.

Overall the Collet Top Loop offers something for everyone and would be fun an experienced driver to bring their whole family.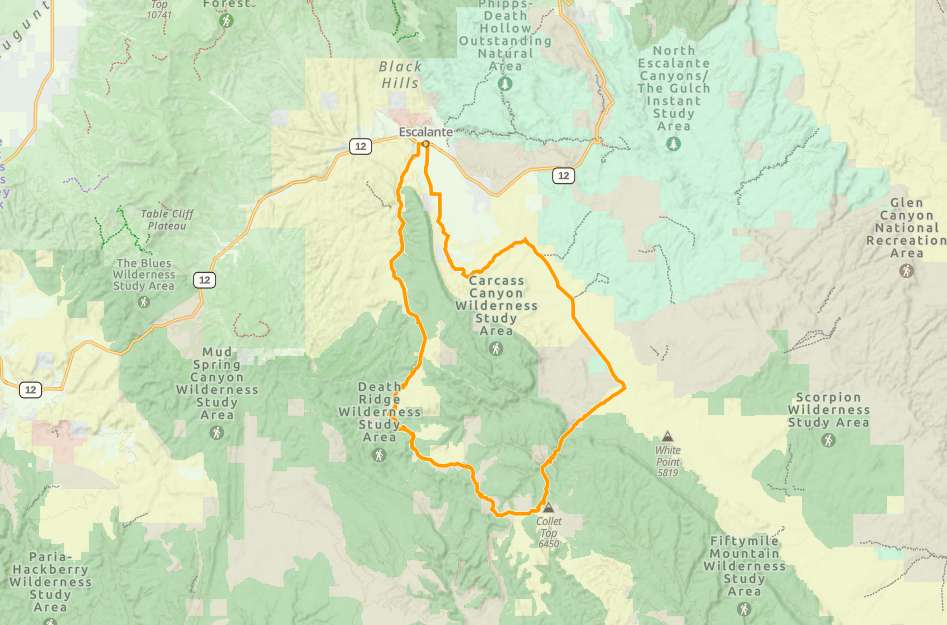 We recommend to download the GAIA App on your mobile device.
You can view and download the route from GAIA as well as see photos with their location geotagged on the trail.
Click "View 360 Map" to explore the trail in Google Street View and "See the Trail Before You Ride the Trail."
The GPX or KML files are available for you to download and use on your preferred app or device. 
Within our Key Points you will discover trail head parking, trail markers, points of interests, intersections as well as terrain and obstacles.
Click on the links below to reveal images and information