Facilities
OHVs
Terrain
Signage
Emergencies
Facilities
There are restrooms at the West parking lot of swing arm city.
OHVs
Terrain
Signage
Emergencies
Factory Butte is the name of the large rock formation that resembles a giant Factory. The 'Open Riding' area at the base of the butte is known as 'Swing Arm City'. It is one of the few open riding areas in the state. Open riding means there is no designated trail within Swing Arm City. There is plenty of terrain to test your skills and a great place for young riders to learn and improve their riding abilities. Of course if you are a seasoned expert rider, you will find a lot of challenging obstacles to conquer. The parking areas are enormous and suitable for dozens of RVs at a time. The ground is level and stable and you can easily camp away from the crowd if you like. This is a great place to spend a week or a weekend camping and riding.

We have provided a trail route of the roads that surround Factory Butte but there are no designated trails within swing arm city so no need for a GPS track for that. Check out the video below to get a feel for Swing Arm City and use the GPS track if you want to go beyond the open riding area. It will loop you all the way around Factory Butte and return you to the starting point.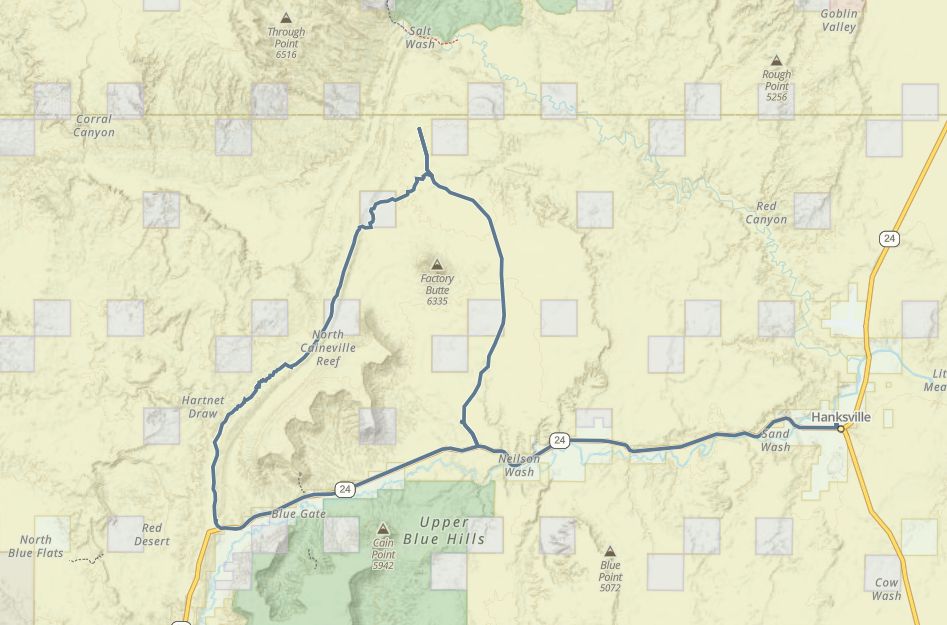 We recommend to download the GAIA App on your mobile device.
You can view and download the route from GAIA as well as see photos with their location geotagged on the trail.
Click "View 360 Map" to explore the trail in Google Street View and "See the Trail Before You Ride the Trail."
The GPX or KML files are available for you to download and use on your preferred app or device. 
Within our Key Points you will discover trail head parking, trail markers, points of interests, intersections as well as terrain and obstacles.
Click on the links below to reveal images and information