Facilities
OHVs
Terrain
Signage
Emergencies
Facilities
The city of Delta has all of the facilities you could need. Gas, Groceries, hotels and Air B&B are all available.
OHVs
Terrain
Signage
Emergencies
This is a relatively easy trail. If you would like stay in a Hotel and ride at Little Sahara dunes this is the trail for you. If you are staying at the dunes and just want to roll in to Delta and grab a burger this is your trail.

The majority of this trail is fast gravel road and pavement making the trip to the dunes relatively quick and easy.
Once you get to the dunes you will likely find the exact path on the GPS track to be impassable. The dunes shift constantly so just take you time and work you way through the dunes taking a path your machine is capable of tackling.

When you get to the Power Plant you will find the trail goes between some of their facilities and it may feel like you are on their property but you are not. The road just goes between and then past their facilities.

There is a gate near the point where you cross the railroad crossing. You are good to go through it, just make sure it is closed after passing through. The north side of the gate is cattle range and if the gate is left open the cattle will get hit by the trail.

When you get to the South West corner of the Dunes the trail turns to almost solid sand and the trail may appear impassable. Just work your way around steep or soft sections and generally work you way through.

The GPS track will take you to Sand Mountain and past it to the exit on the East side of the dunes at Hwy 6.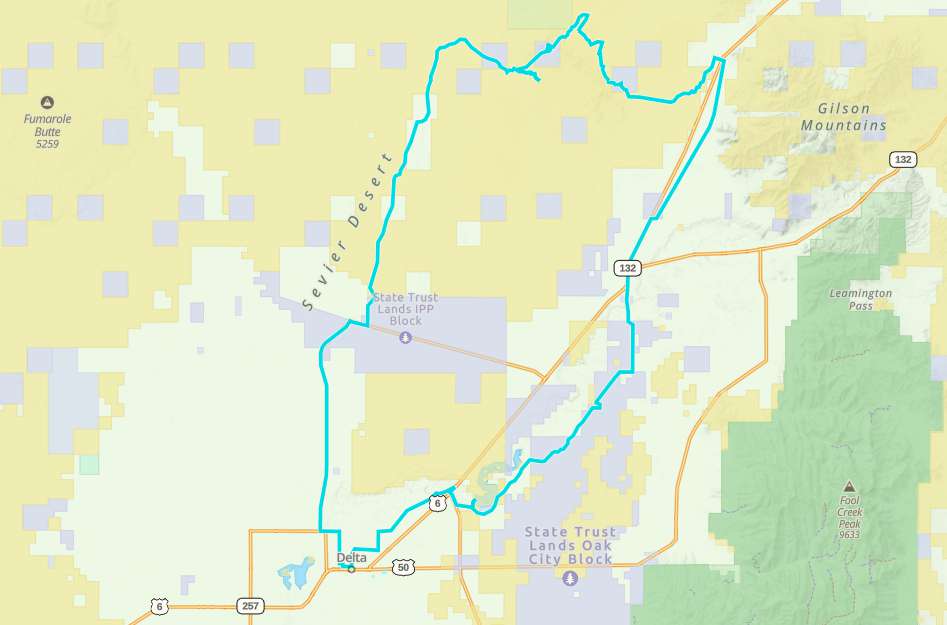 We recommend to download the GAIA App on your mobile device.
You can view and download the route from GAIA as well as see photos with their location geotagged on the trail.
Click "View 360 Map" to explore the trail in Google Street View and "See the Trail Before You Ride the Trail."
The GPX or KML files are available for you to download and use on your preferred app or device. 
Within our Key Points you will discover trail head parking, trail markers, points of interests, intersections as well as terrain and obstacles.
Click on the links below to reveal images and information