Enterprise to Pine Valley
Facilities
OHVs
Terrain
Signage
Emergencies
Facilities
Enterprise: Enterprise has one motel, but there are two dry campgrounds out by the Enterprise Reservoir. The Honeycomb Campground is one our our favorites. There are two options to dine, both good. Marvs is a nostalgic burger joint and the Cafe' offers comfort food and sit down dining and a full breakfast menu. There is a hardware store, a grocery store and a Family Dollar.
Pine Valley: Pine Valley is only open in the shoulder and summer months. There is a lodge, a steakhouse and an Ice Cream shop.
OHVs
Terrain
Signage
Emergencies
This is a two arm route that connects the city of Enterprise to the community of Pine Valley, UT. or New Harmony. It is the only east-west motorized connection across Pine Mountain. This route is very easy to navigate as all the roads are county maintained. The route is sprinkled with historical artifacts and crosses a variety of terrain. The highlights of the trip are four separate pioneer cemeteries for the communities of Holt, Hamblin, Pinto and Pine Valley.
The first arm of the trip comes just before you get to the historic Page homestead. It takes you to Pine Valley, one of the most spectacular year-round communities in the state. It has the oldest LDS church still in regular service in the state. There is a steakhouse and an Ice Cream store in the town and lots of rich history as you walk around town. Some of the families you will meet in Pine Valley have lived there for over 5 generations.
When you are ready to hit the road again, you back track to the Pinto Settlement (where there is another historic cemetery. Turn right at Pinto and drive route 009 until you get to the Page Ranch Homestead. Please remember that the Page property is still owned by the family and it is private property. Please respect that
Just a few yards west of the ranch house hou head south on county road 029. This route will take you across the saddle of Pine Mountain and down into New Harmony.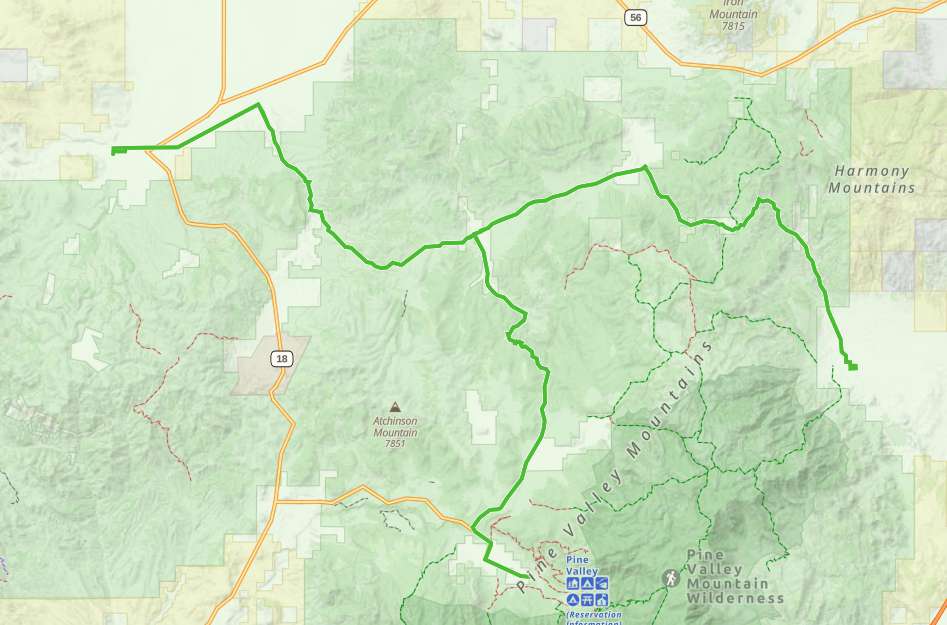 We recommend to download the GAIA App on your mobile device.
You can view and download the route from GAIA as well as see photos with their location geotagged on the trail.
Click "View 360 Map" to explore the trail in Google Street View and "See the Trail Before You Ride the Trail."
The GPX or KML files are available for you to download and use on your preferred app or device. 
Within our Key Points you will discover trail head parking, trail markers, points of interests, intersections as well as terrain and obstacles.
Click on the links below to reveal images and information