Facilities
OHVs
Terrain
Signage
Emergencies
Facilities
Lodging, restaurants, fuel and groceries are available in the town of Washington.
OHVs
Terrain
Signage
Emergencies
The Top of the World Trail in Washington County is a great trail to explore and familiarize yourself with the sand mountain – near Sand Hollow State Park. The loop takes you 15.4 miles from Sand Hollow Reservoir and back. This trail takes you past multiple interesting sites and lookouts. There are lots of offshoots from the main Top of the World trail so its a good idea to use GPS while you're out there. All in all, this is a great area to ride around and explore.

The terrain is mostly comprised of sand and rocky trails.

This trail provides great opportunities to stop, get out, and take in the views.

You can also find just about every amenity you need in town including gas, lodging, and food.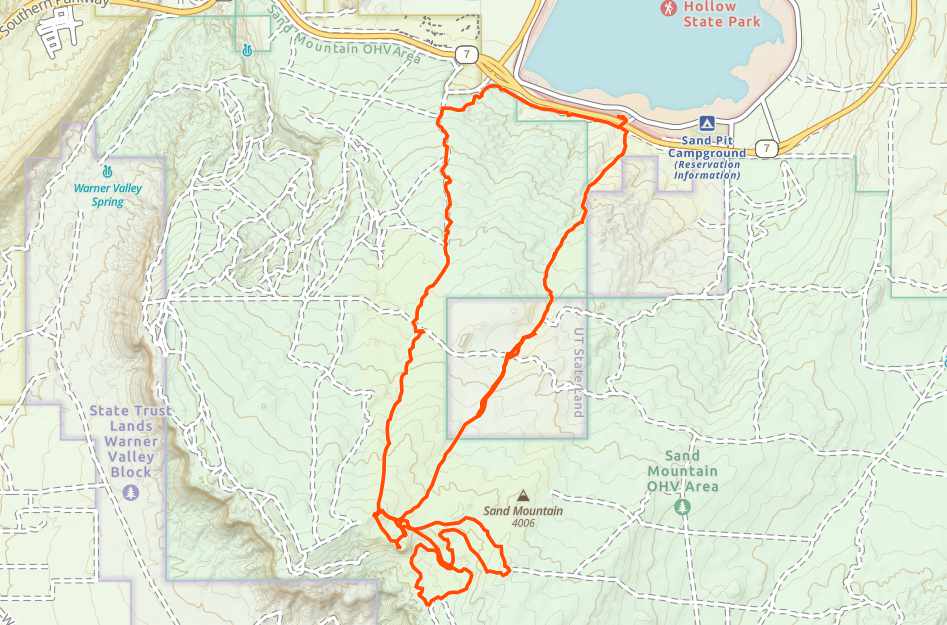 We recommend to download the GAIA App on your mobile device.
You can view and download the route from GAIA as well as see photos with their location geotagged on the trail.
Click "View 360 Map" to explore the trail in Google Street View and "See the Trail Before You Ride the Trail."
The GPX or KML files are available for you to download and use on your preferred app or device. 
Within our Key Points you will discover trail head parking, trail markers, points of interests, intersections as well as terrain and obstacles.
Click on the links below to reveal images and information