Facilities
OHVs
Terrain
Signage
Emergencies
Facilities
Lodging, restaurants, fuel and groceries are all available out of Enterprise to the north. You can also find fuel and supplies on your way to the trailhead in Veyo. The trail is also close to the St. George and Cedar City area.
OHVs
Terrain
Signage
Emergencies
The Pinnacles OHV Trail is a loop that will take you around Enterprise Reservoir, up Park Canyon looking west toward Nevada, and then dropping down into the valley where you will ride past some impressive geologic features "The Pinnacles."

The trail is approximately 45 miles and we rode it in 3.5 hours without any stops. Our average speed on the trail was about 10.5 mph and we gained 2,100 feet (6,700′ elevation) before dropping back down to 4,600 feet back in Veyo.

This trail can access several other trails in the area to make for a full day of riding or take your time and explore the area. There are numerous camping options in this area or you can find a motel in Enterprise with a greater variety of lodging options out of Cedar City or St. George.

An obvious perk of this particular trail is the ability to quickly escape civilization without being too far away. There are no services along the trail but you will find some pit toilets when you pass Enterprise Reservoir.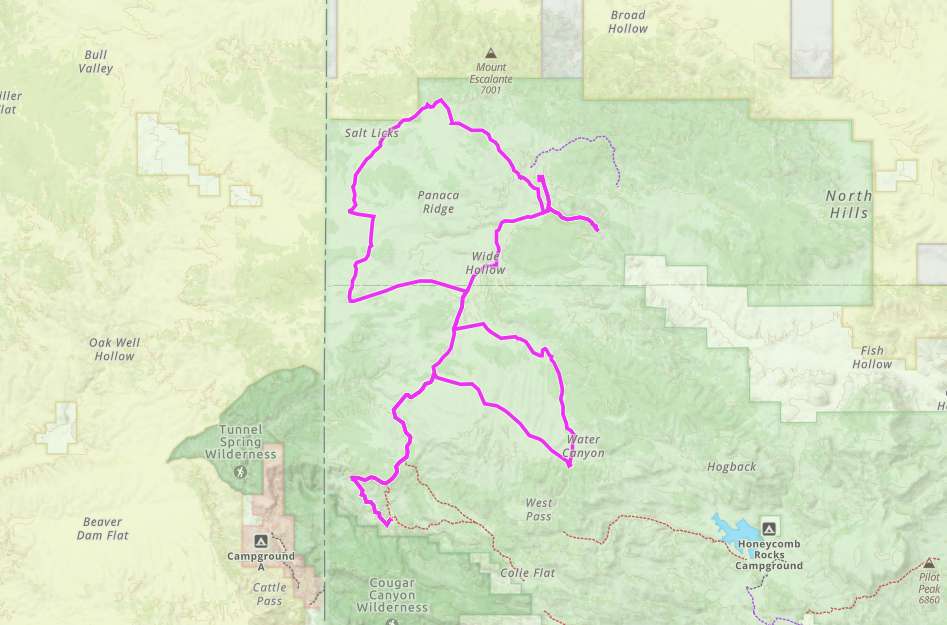 We recommend to download the GAIA App on your mobile device.
You can view and download the route from GAIA as well as see photos with their location geotagged on the trail.
Click "View 360 Map" to explore the trail in Google Street View and "See the Trail Before You Ride the Trail."
The GPX or KML files are available for you to download and use on your preferred app or device. 
Within our Key Points you will discover trail head parking, trail markers, points of interests, intersections as well as terrain and obstacles.
Click on the links below to reveal images and information