Facilities
OHVs
Terrain
Signage
Emergencies
Facilities
Starting in Loa gives you plenty of options. We started at the city park a block West of main street. It's okay to park alongside the the street and there is room for large rigs.
OHVs
Terrain
Signage
Emergencies
If you are looking for a smooth ride in a beautiful part of the Boulder mountain, take a trip from Loa to Escalante across the mountain.

The Trail is located on the Boulder Mountain Western slopes, accessed from the North via Loa, Bicknell, Teasdale or Torrey.

We started in Loa. Following Main Street south maintain a southerly course on South Main until it turns to Big Rock Road after the highway makes a 90 degree turn towards Lyman. Just keep heading south when you reach Big Hollow Rd which will take you up onto the mountain.

There are several signs along the way giving you distance to Escalante so it's hard to get lost once you are on the right route out of Loa.
But, its will help if you grab the GPS track.

Check out the other trails in this area, you can easily combine this ride with several others.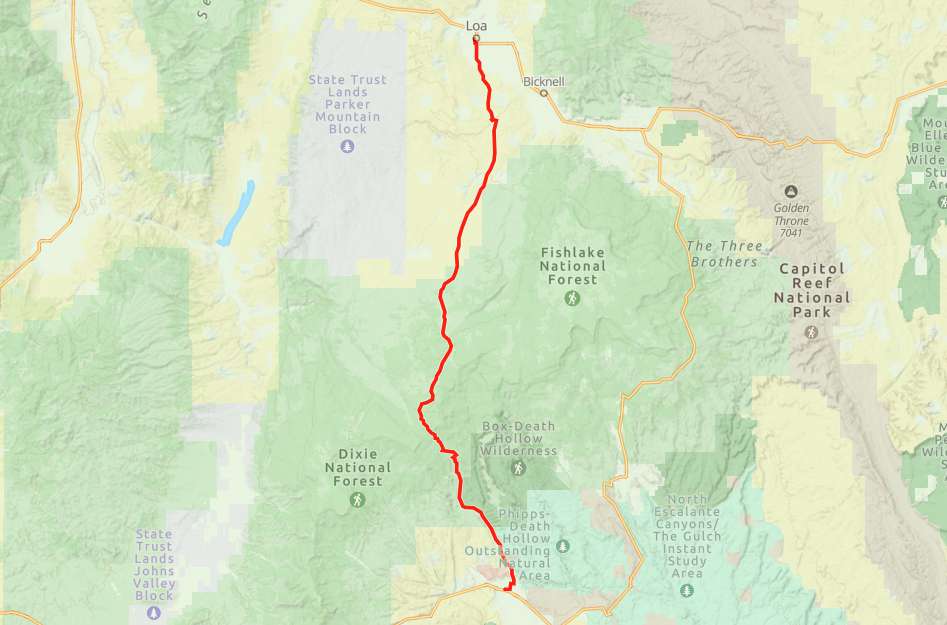 We recommend to download the GAIA App on your mobile device.
You can view and download the route from GAIA as well as see photos with their location geotagged on the trail.
Click "View 360 Map" to explore the trail in Google Street View and "See the Trail Before You Ride the Trail."
The GPX or KML files are available for you to download and use on your preferred app or device. 
Within our Key Points you will discover trail head parking, trail markers, points of interests, intersections as well as terrain and obstacles.
Click on the links below to reveal images and information