Facilities
OHVs
Terrain
Signage
Emergencies
Facilities
Vault Toilet at Trailhead only.
OHVs
Terrain
Signage
Emergencies
The Amasa Basin OHV trails are located in Millard County Utah approximately 51 miles west of Delta, with good parking located off Utah Hwy 50. There are approximately 33 miles of trails and gravel roads in this trail system. It will take you all day to explore this system and it is well worth the trip. There is a large sinkhole (stay outside the fence) and the view from the top is identical to that from Notch Peak without the 8-mile hike.

There are no services so stock up on anything you need before leaving Delta (or Milford if you are coming from the South) This is a great place to get away and enjoy some solitude while exploring a seldom seen part of Utah.

The riding is pleasant and scenic, trails vary from easy to difficult. Trust the trail ratings. The black trails are not for beginners. We descended from the top on Trail 6 and while the map shows it as a blue trail you will find the markers on the ground have it as black. It has some very tricky sections even going downhill, that may not be passable without winching going uphill.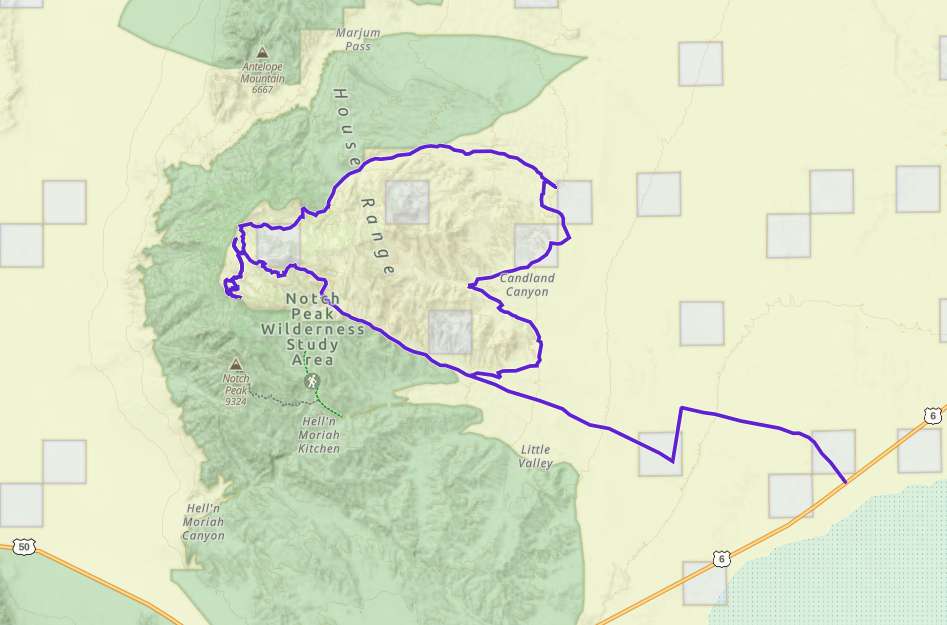 We recommend to download the GAIA App on your mobile device.
You can view and download the route from GAIA as well as see photos with their location geotagged on the trail.
Click "View 360 Map" to explore the trail in Google Street View and "See the Trail Before You Ride the Trail."
The GPX or KML files are available for you to download and use on your preferred app or device. 
Within our Key Points you will discover trail head parking, trail markers, points of interests, intersections as well as terrain and obstacles.
Click on the links below to reveal images and information