Facilities
OHVs
Terrain
Signage
Emergencies
Facilities
Ferron is the base camp for this trip and there are is camping at Millsite State Park, and lodging at Big Mountain Lodge. We have stayed in both places. There is a real grocery store in town and two places to buy gas. Food is available at the Big Mountain Lodge, the Grub Box, and a light menu at the Freckled Cow.
OHVs
Terrain
Signage
Emergencies
Copper globe is a perfect family day is the desert. The route is challenging enough that you won't get bored making the trip, and secure enough that mom won't be worried about the kids. The terrain itself is worth it, but there are lots of other discoveries to make the trip one for the memory books. Along the it is not uncommon to see antelope and you might see Rocky Mountain Sheep, I have seen evidence of wild burros below I 70 as well. If you see them, get you pictures from the machine as they don't know what to make of a machine. As soon as you get off, they sense a predator and off they will go.

Plan to take time at the Copper Globe Mine. There are lots of old artifacts around the mine and a good learning moment for young and old alike. Pack lots of water! (twice what you think you will need) and ample sunscreen. Brimmed hats are good as well (there is very little shade out there.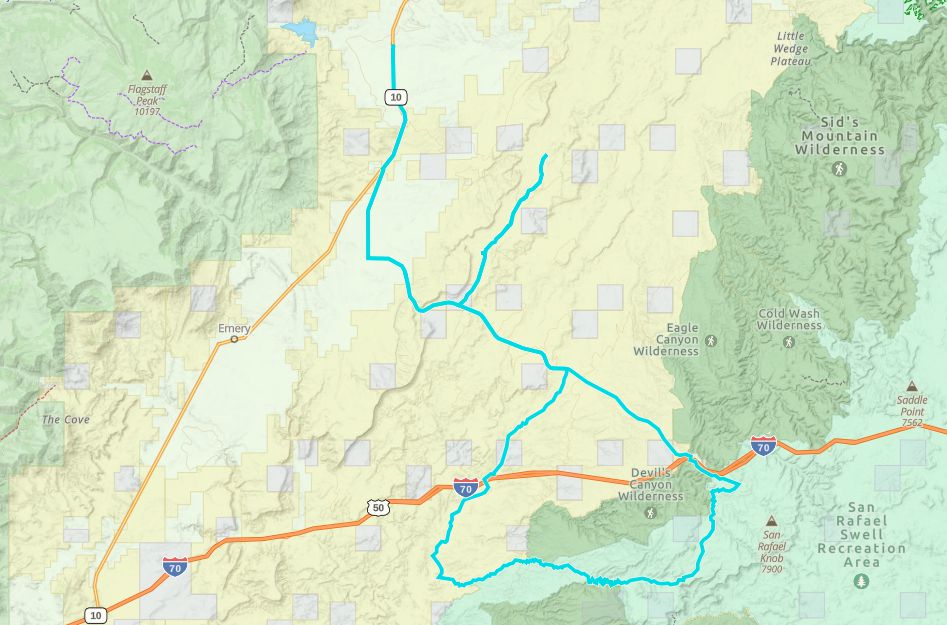 We recommend to download the GAIA App on your mobile device.
You can view and download the route from GAIA as well as see photos with their location geotagged on the trail.
Click "View 360 Map" to explore the trail in Google Street View and "See the Trail Before You Ride the Trail."
The GPX or KML files are available for you to download and use on your preferred app or device. 
Within our Key Points you will discover trail head parking, trail markers, points of interests, intersections as well as terrain and obstacles.
Click on the links below to reveal images and information
We started our journey in Ferron taking the state street towards south.