Facilities
OHVs
Terrain
Signage
Emergencies
Facilities
While there is parking at the trailhead and soon to be restrooms at West Park. The closest creature comforts are in Salina which is a short 4 miles from Aurora. There you can find a variety of fast food and sit down restaurants. There are several gas stations, the closest is the Maverick right in the center of town. We like to order chicken fried steak and Mom's Restaurant.
OHVs
Terrain
Signage
Emergencies
Coffee Peak Loop is a perfect fall ride, especially for people meeting from opposite ends of the state to ride together. The trailhead is located at a park on the west side of Aurora with plenty of parking for trailers. They are in the process of renovating the trailhead park with an upgraded pavilion and soon to arrive bathrooms. The trail leads west out of Aurora along the ridge then climbs east through WIllow Creek canyon up to Willow Creek Peak. The route hen heads north around Jacks Peak through Robins valley past an old homestead then through the thickets of aspen and red maple to Coffee Peak. From the end of the ATV trail you can hike a short distance out to a lookout point that allows you to look down into Salina. The last two weeks of October are traditionally the best weeks for fall colors according to the locals.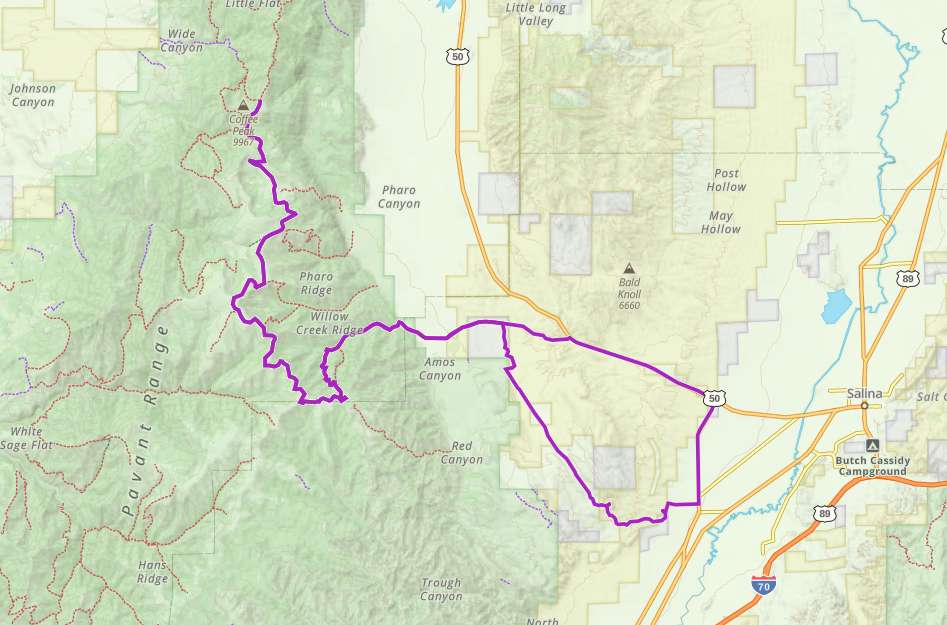 We recommend to download the GAIA App on your mobile device.
You can view and download the route from GAIA as well as see photos with their location geotagged on the trail.
Click "View 360 Map" to explore the trail in Google Street View and "See the Trail Before You Ride the Trail."
The GPX or KML files are available for you to download and use on your preferred app or device. 
Within our Key Points you will discover trail head parking, trail markers, points of interests, intersections as well as terrain and obstacles.
Click on the links below to reveal images and information