Facilities
OHVs
Terrain
Signage
Emergencies
Facilities
If you enter via the Sand Hollow State Park take the first right hand turn and proceed to the southern side of the reservoir.
Park in the paved parking lot near the tunnel that allows you to cross under the highway heading south. There is a a restroom in the parking lot.
OHVs
Terrain
Signage
Emergencies
This trail is located at Sand Hollow State Park near Hurricane UT.
The area south of the State Park has many trails.
This trail makes a loop around the riding are and returns to the State Park.
It's a great way to get a feel for the scope of the riding are and decide where you might like to explore further.
This is a relatively easy trail that most OHV's will find easy to nacvgate.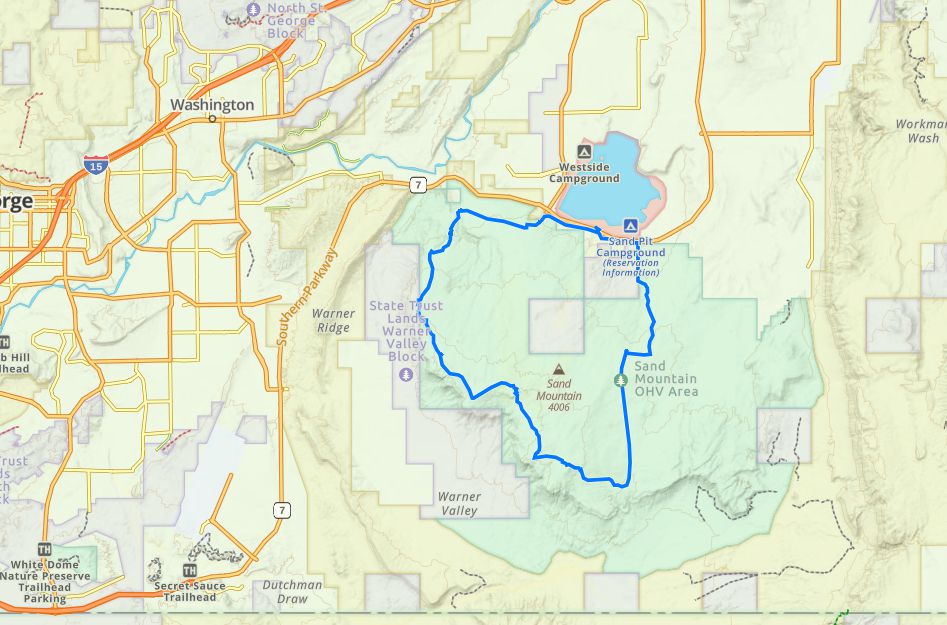 We recommend to download the GAIA App on your mobile device.
You can view and download the route from GAIA as well as see photos with their location geotagged on the trail.
Click "View 360 Map" to explore the trail in Google Street View and "See the Trail Before You Ride the Trail."
The GPX or KML files are available for you to download and use on your preferred app or device. 
Within our Key Points you will discover trail head parking, trail markers, points of interests, intersections as well as terrain and obstacles.
Click on the links below to reveal images and information